New Decks Built by Grand Decks - Transform Your Backyard
If you are in the market for a new deck, today is your lucky day because you found Grand Decks! We are a premier deck builder in the Portland Metro Area. Our skilled team will blow you away with our exceptional attention to detail throughout the entire process. From the design to the installation, you are in the best hands with Grand Decks.
Why Choose Grand Decks?
Building a New Deck is as Easy as 1-2-3
The decision to build a new deck is a big one, as there are many factors to consider when taking on such a large and potentially complex project. Not only does a new deck require a significant financial investment, but there also are many landscape challenges to overcome and a plethora of design options out there to choose from. Hiring professional deck builders is the obvious choice, as they can help significantly with the entire process. 
That's where Grand Decks steps in. We understand that your deck is more than just an outdoor addition. It is an investment in your property as having an outdoor living space can have an impressive increase in the value of your property, not to mention it can add enjoyment for friends and family and add beauty to your home. A new deck is more than just a gathering space; it's a place to enjoy the beauty of the outdoors, share laughter with friends, celebrate momentous life events, and create memories to last a lifetime.
Looking For The Ideal Deck Builder in Portland?
New Custom Decks For The Entire Oregon
When you contact Grand Decks, you are getting in touch with the best deck builders in all of the Portland Metro Area. Our talented group of design professionals will schedule an in-person appointment with you to take space measurements, offer design advice and get a general feel for what you want for a new deck.
So whether you want to build a new custom deck of your own design, are happy to select from a predesigned deck from our Classics collection, or resurface an old deck, we've got you covered. 
The Grand Decks team will offer you sound, professional advice and innovative design ideas to fit your vision. Our process includes three simple steps – Initial Consultation, Design, and Installation.
Unparalleled Expertise From Grand Decks
We know the struggle is real when it comes to finding that perfect custom deck-building company. But don't worry; we're here to make the search easy and informative. When hunting for a custom new deck builder in the Portland Metro Area, it's essential to find a dynamic designer and a skilled builder all rolled into one.
An incredible portfolio filled with diverse and stunning completed projects is the first sign that you're dealing with a top-notch designer. After all, variety is the spice of life! You'll be beyond impressed when you work with our designers to see how we can help bring your visions to life, right before your eyes using our top-notch deck design tools.
Next up, let's talk about being on the pulse of what's trending in deck materials and construction. You want a Portland deck builder who's got their finger on the pulse of the latest tools, methods, and tech for designing and building dreamy decks. So, don't be shy—chat with potential candidates and see who's truly in the know about all things deck related.
Sure, any deck contractor can give you a hand in planning your space, but an experienced custom deck builder like Grand Decks takes it to the next level. We'll help you prioritize your deck's many purposes and consider everything from the sun's position in the sky to your yard's terrain and your home's location. We've got an eye for the big picture and the experience to know what works! Get ready to roll out the welcome mat because we're here to be your ideal decking builders for your brand-new deck!
Elevate Your Outdoors with Grand Decks!
If you're still exploring the reasons to choose Grand Decks for your new deck project, let us share a few more aspects that make us stand out as the perfect choice for you.
DYI or Hire Professionals?
Advantages Of Choosing An Experienced Deck Builder
Are you debating between a DIY project and hiring a professional deck builder for your new deck? You're not alone, as many homeowners want to do what they can to save money, and building your own deck may not look too difficult on Youtube. However, we all know by the number of funny videos of failed DIY attempts that following along with online instructions can be a lot harder than it looks.

Let us share some compelling reasons why choosing an expert deck builder is really the way to go. With a skilled deck builder like Grand Decks, your preferences and ideas are our top priority, which means you can easily add any unique features you desire to your dream deck.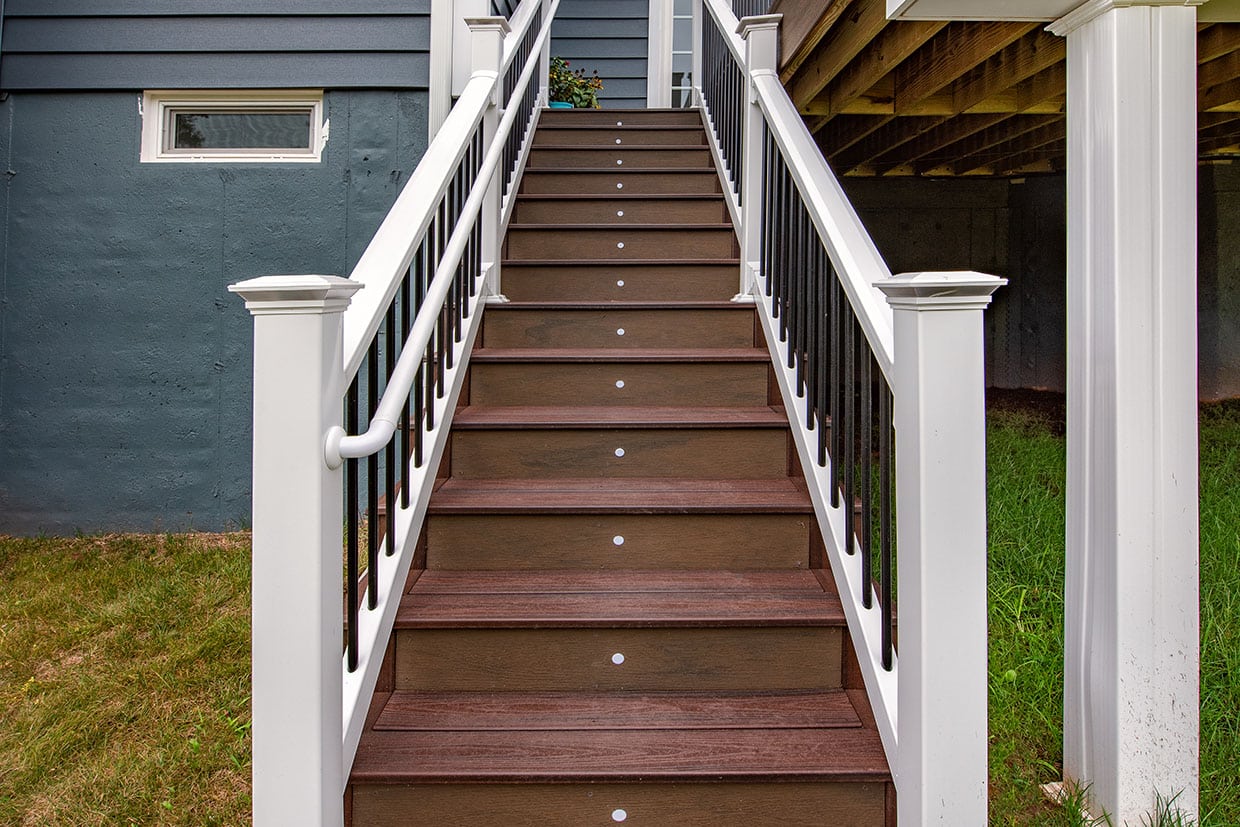 Ready To Design Your New Deck?
Get Inspired From Our New Deck Projects
Investing in a home renovation project is a big decision, and it's essential to ensure that the deck contractor you choose creates a masterpiece that you truly adore. Reach out to our friendly deck designers to discuss your vision and provide feedback on deck concepts. At Grand Decks, we take your budget, ideas, and backyard landscape into account, designing a stunning and fitting deck just for you.
Don't forget to explore our blog articles, where you'll discover valuable tips and insights on selecting the best deck builder for your custom deck project. Make an informed choice, and let us help you create the perfect outdoor space!
View Our Work
Ready To Build Your New Deck?
Contact Grand Decks For Your New Deck Today!
For scheduling your complimentary design consultation, feel free to reach out to the skilled professionals at Deck Guardian without delay. With our profound expertise, extensive experience, and unwavering passion for our craft, you can rest assured that your deck project will be in the most capable hands, resulting in the ideal addition to your home.
Our team will gladly arrange a visit to your residence or chosen deck location, ensuring a relaxed and pressure-free consultation. During this time, we will attentively listen to your ideas, address any inquiries you may have, provide samples for your consideration, and take precise measurements. We will thoroughly discuss your options, and within a few days, follow up with a comprehensive deck estimate tailored to your specific requirements.
Schedule A Free Consultation With Us