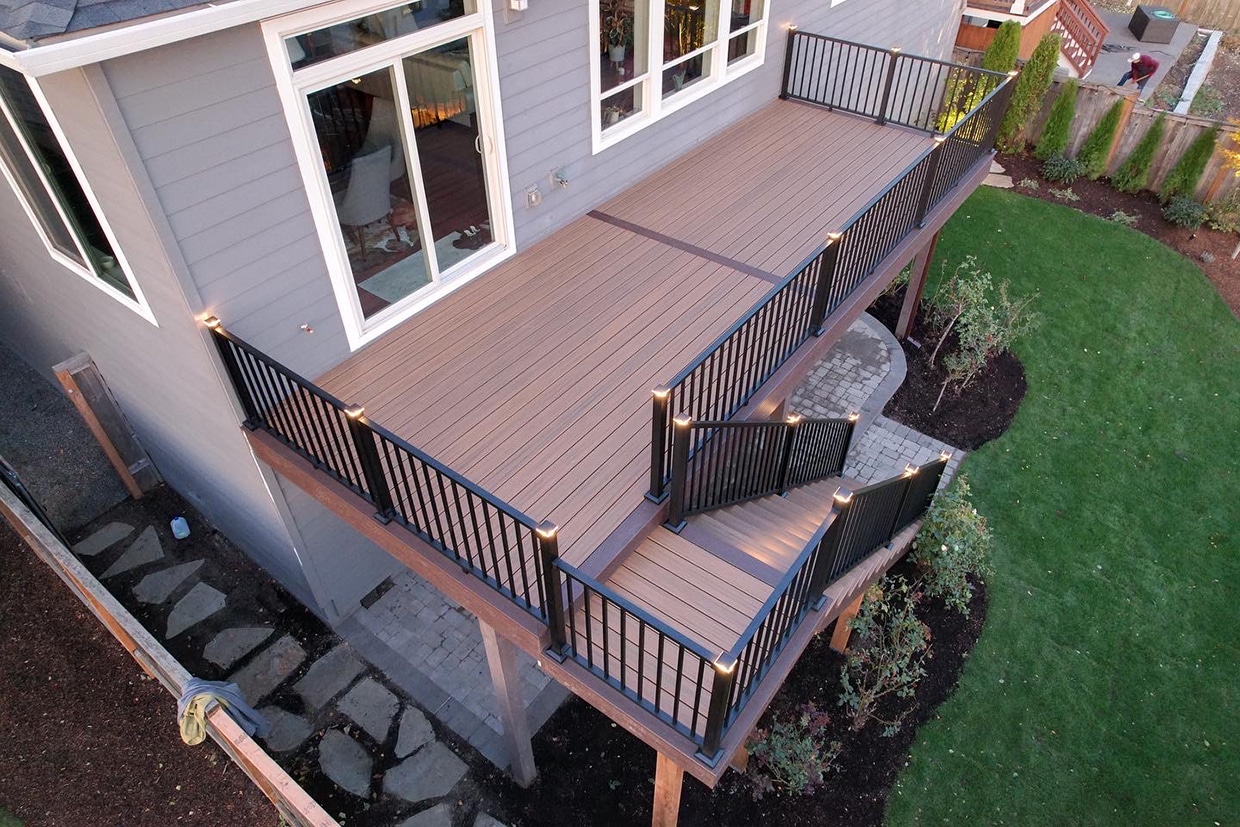 Grand Decks, a premier Happy Valley Deck Builder, specializes in bringing your outdoor living dreams to life, reflecting the awe-inspiring scenery that Happy Valley has to offer. Nestled in the beauty of Clackamas County, lies the charming community of Happy Valley. It's a place where the panorama of Mount Hood graces the horizon and vibrant cherry blossoms signal the arrival of spring. The area's natural beauty and serene living make it a perfect setting for outdoor living spaces. In the heart of this Pacific Northwest haven, Happy Valley Deck Builders have been making their mark, expertly enhancing homes with their gorgeous deck creations.
Residents of Happy Valley understand the value of a well-crafted deck. It's more than just an extension of the home—it's a platform for sunset gazing, a retreat for savoring locally sourced Pinot Noir, and a stage for summer barbecues with the scent of fir trees in the air. With the wealth of natural beauty surrounding Happy Valley, it's no wonder that deck living has become an integral part of the lifestyle here.
Whether it's a sweeping multi-tier deck for grand gatherings, a cozy corner for quiet reflection, or a poolside retreat for sun-soaked afternoons, Happy Valley Deck Builders are committed to bringing these visions to life. Read on to learn more about our exceptional craftsmanship, design diversity, and dedication that have made Grand Decks a cornerstone of outdoor living in Happy Valley.
Need a Happy Valley Deck Building Company?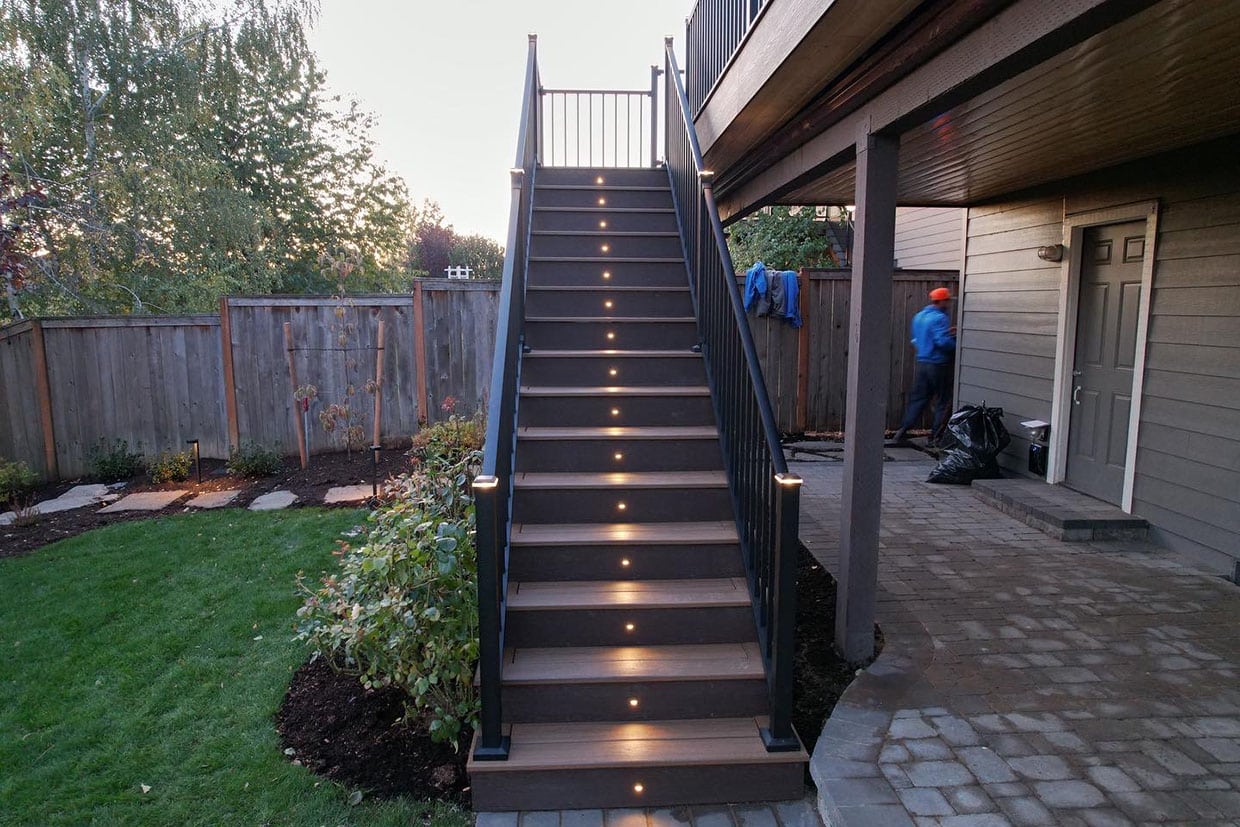 When it comes time to transform your backyard into an outdoor oasis, partnering with a trustworthy Happy Valley deck Building Company is key to making it a smooth process. Luckily, you have a top deck builder near Happy Valley that can help you make your deck vision a reality-Grand Decks.
Grand Decks has been mastering the art of deck building for so long that we have encountered every challenge imaginable. Our Happy Valley Deck Building Company is a deck contractor that will always provide high-quality craftsmanship for competitive rates no matter how challenging the deck-building project may be.  
We guarantee you will be thrilled that you hired a Happy Valley deck builder like Grand Decks. And it's simple to book a consultation with our Happy Valley Deck Building Company! Just give us a call or fill out our online form! Our customer service team is waiting to assist you in bringing your dream deck to life. 
Decks, Deck Resurfacing, and Fences Near You in Happy Valley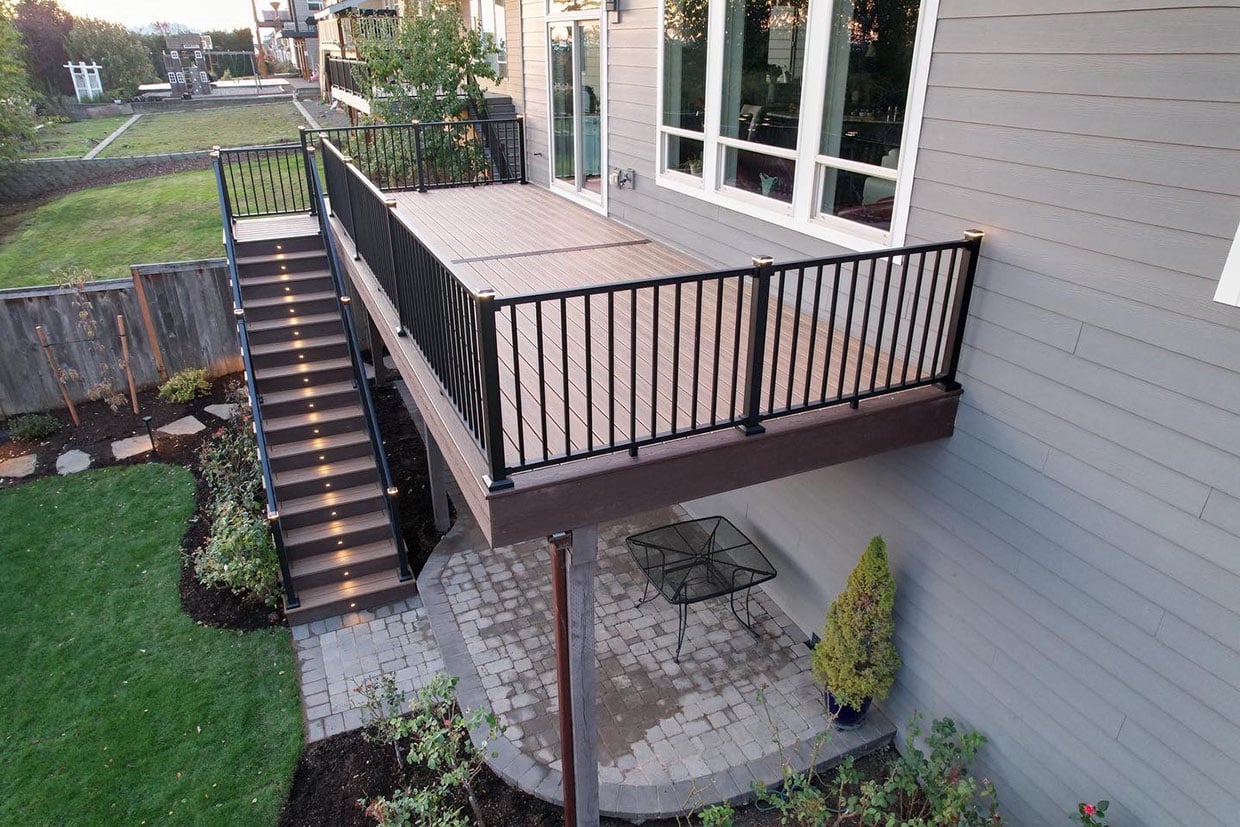 Collaborate with a skilled Happy Valley deck builder to craft a deck that embodies your unique vision and style preferences. The possibilities are endless, with an extensive array of deck types, designs, and materials at your disposal. Our expert deck builders in Happy Valley specialize in creating both pre-designed and custom decks, offering you an incredible selection to elevate your outdoor space:
Stacked, multi-level decks for dynamic entertainment areas

Seamlessly attached decks that blend with your home's architecture

Free-standing, detached decks for versatile placement options

In-ground pool decks to enhance your aquatic oasis

Above-ground pool decks for an elevated poolside retreat

Cozy, ground-level decks for intimate outdoor lounging

Breathtaking rooftop decks with panoramic views

Charming Juliet balconies to adorn your upper floors

Expansive wraparound decks for seamless indoor-outdoor transitions

Timeless natural wood decks for a warm, organic feel

Low-maintenance composite decks for lasting beauty

Classic, standard-shaped decks for tried-and-true appeal

Geometrically intriguing octagonal decks

One-of-a-kind, uniquely shaped decks tailored to your vision
Partner with our Happy Valley deck builders and let your imagination soar as we work together to transform your outdoor space into a captivating extension of your home.

If there is a deck style you want but don't see in our list, the custom designers at our Happy Valley deck Building company would be more than happy to help put your vision together. 
Decks built by a Happy Valley deck builder come in all shapes and sizes, from a simple 12 x 12 deck to a more complex deck with built-in seating. We do custom-design railings, including materials like iron, pressure-treated lumber, vinyl, and glass. 
Our Happy Valley deck contractor can construct a ground-level deck anywhere in your backyard or property. A ground-level deck gives our designers a lot of creativity in finding unique places to build your deck.   We can even build a deck around a swimming pool, hot tub, or spa. 
A deck builder near Happy Valley will get the appropriate permits to build a deck wherever you want. If you want a multi-tier deck, we give you several choices of stairs and even add an ADA-compliant ramp for accessibility.
A Happy Valley deck builder will look at your specific needs, your yard space, and even the direction your yard is facing to suggest the best deck for your property. So building a deck has never been simpler, and Grand Decks offers a straightforward process from design to installation.
We guarantee that your deck will be finished according to your schedule. In the case of weather delays or material availability, we will be in constant contact with you to inform you of any changes. Honestly is our policy, and we never leave customers in the dark. 
Revitalize Your Deck with Our Premier Happy Valley Deck Builder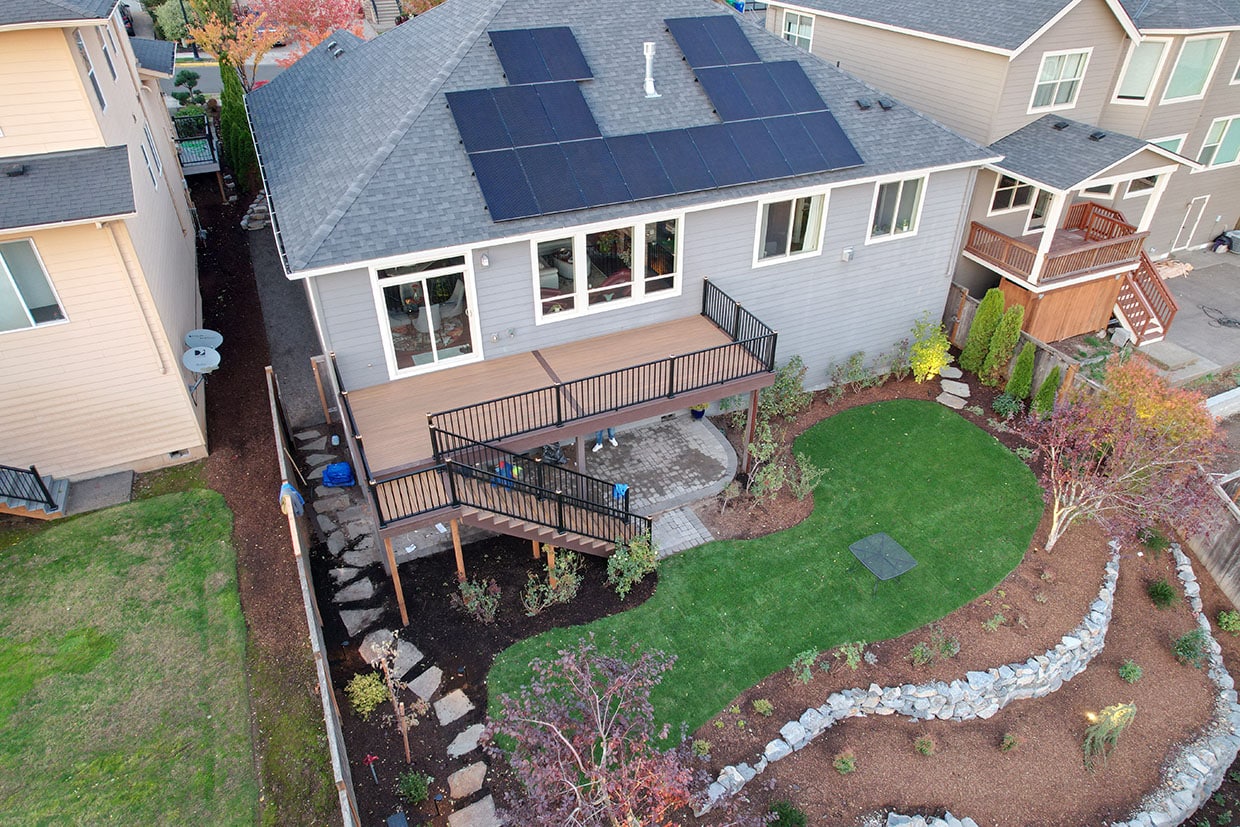 Is your deck beginning to show the inevitable signs of Happy Valley's seasonal weather? Don't despair—our expert deck builders in Happy Valley stand ready to rejuvenate your weather-beaten deck. With our professional deck resurfacing service, we can breathe new life into your cherished outdoor retreat. This process involves swapping out your worn surface planks or boards with fresh, pressure-treated lumber or enduring composite material, giving your old deck a vibrant new look.

The transformation of your deck needn't be confined to a simple restoration; it can evolve into an entirely new design. The possibilities for reshaping your outdoor space are vast and exciting, and our team is eager to help you explore every creative option.

Every deck resurfacing project is unique and comes with its own set of challenges. While your deck's foundation might still be robust and structurally sound, if any issues arise, our Happy Valley deck specialists are prepared to address them. Ensuring safety is our utmost priority, and if a foundation replacement becomes necessary, we'll make sure it's executed flawlessly, providing a solid base for your rejuvenated deck.
Top Reasons to Use Our Happy Valley Deck Building Company
Grand Decks is a trustworthy and expert deck builder working in your neighborhood. We take great pride in transforming customers' lives by creating an outdoor extension of their homes to make many lasting memories. Grand Decks is your choice for a top Happy Valley deck builder. We offer top-notch services for competitive prices so that you can build your dream deck no matter your budget. 
Building a deck with Grand Decks is simple and hassle-free. From first contact to consultation, design and installation, our Happy Valley Deck Building Company offers financing options to help you build the greatest deck you ever imagined. There is no reason to hesitate- let our Happy Valley Deck Building Company help transform your outdoor space into an outdoor oasis. 
Grand Decks: Exclusive Happy Valley Deck Builder And Fence Expert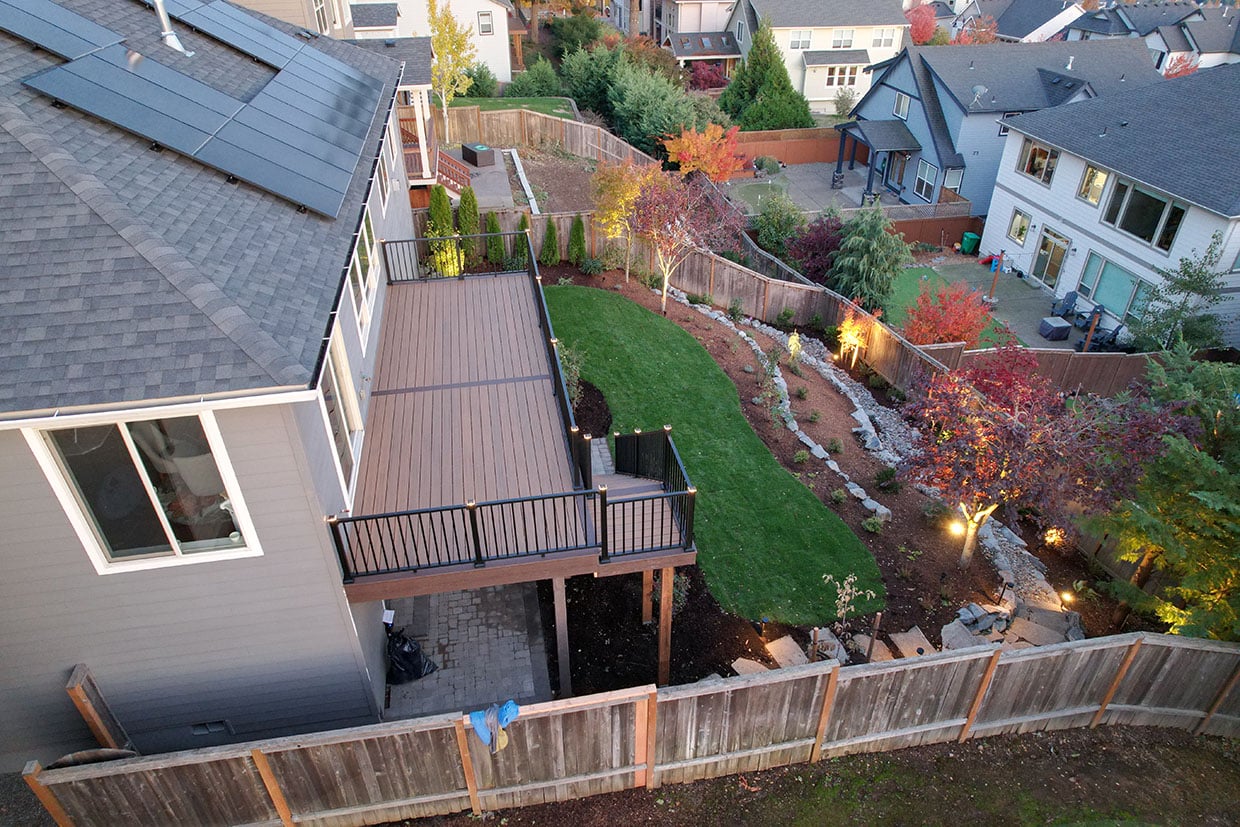 Grand Decks, a superior Happy Valley deck builder, stands unrivaled in crafting unique outdoor living spaces that resonate with distinction and functionality. We take immense pride in delivering a personalized experience, and constructing decks of all shapes and sizes with meticulous attention to detail.
As Happy Valley's top-rated deck builder, we can transform your backyard into a stunning oasis, providing you with a stylish platform to immerse yourself in the natural beauty of the great outdoors. Let us elevate your exterior space, blending artistry and craftsmanship to create a deck that's uniquely yours.
Don't let the opportunity slip away! Seize the moment to redefine your outdoor living. Reach out to us today to schedule a complimentary consultation, and let's embark on the journey to create your dream deck.