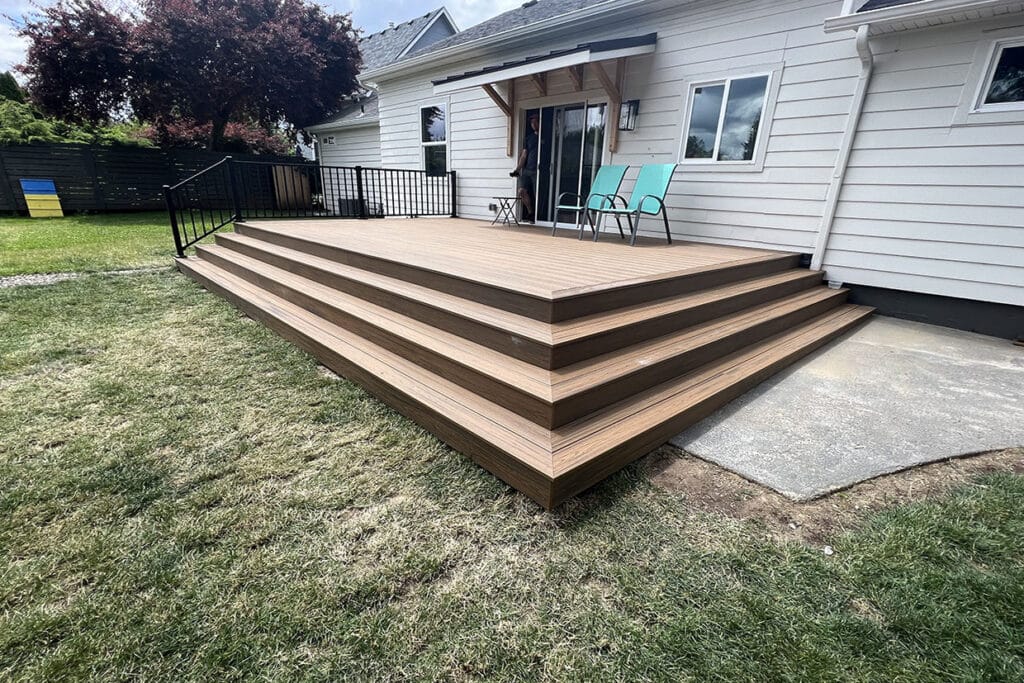 Searching for the ideal Tualatin deck builder can feel like looking for a needle in a haystack. It's not just about constructing a deck – it's about creating an outdoor sanctuary. As homeowners, we all yearn for three non-negotiable qualities: unrivaled quality, competitive pricing, and a builder with an outstanding reputation.
Enter Grand Decks, your local Tualatin deck builder. We are the trifecta of deck building, embodying all three of these essential qualities. We don't just build decks – we create custom, breathtaking outdoor spaces with an unwavering commitment to excellence and value.
At Grand Decks, we blend top-tier quality with pricing that caters to every budget. We're not just another deck company; we're your partners in transforming your outdoor dreams into reality. Choosing us means choosing superior craftsmanship, unbeatable value, and a deck that you'll adore for years to come.
Looking for a Superior Tualatin Deck Building Company?
Finding the perfect Tualatin deck builder involves more than just a quick Google search. It's about aligning your dreams with a company that embodies the following crucial characteristics:

Seasoned Experience:

At Grand Decks, our extensive years in the decking industry are reflected in our innovative solutions and adaptability to meet every challenge head-on. Our experience isn't just a number – it's a testament to our growth and commitment to stay at the forefront of our industry.

Licensed and Insured:

We are a fully registered and insured

Tualatin deck builder

. Our advice? Never compromise your peace of mind with a company lacking these essentials.

Uncompromising Standards:

We adhere strictly to all building standards, and we'll handle all necessary permits on your behalf. We believe in hassle-free service and exceeding expectations.

Personalized Design Process

: Every homeowner is unique, and so should be their deck. At Grand Decks, we offer both custom in-house design services and pre-designed deck plans. No matter your vision, we can bring it to life.

Iron-Clad Warranty:

We stand by the quality of our products and workmanship. Our warranties cover all work and materials for each deck we build, ensuring your investment stands the test of time.

Deadline-Oriented:

At Grand Decks, we respect your time. We work closely with you to create a realistic timeline that suits your schedule, ensuring your project is completed promptly without compromising quality.
Never settle for a Tualatin deck builder that doesn't embody these qualities. Sacrificing on any of these factors can derail your deck-building experience.
With Grand Decks, you're guaranteed superior service, exquisite craftsmanship, and unmatched quality within a fair price range. We're more than just a deck builder near Tualatin – we're your partners in creating your dream outdoor space. If you're searching for the perfect deck builder, your search ends here. Let's start building your perfect deck with Grand Decks!
Why Use Our Tualatin Deck Builders?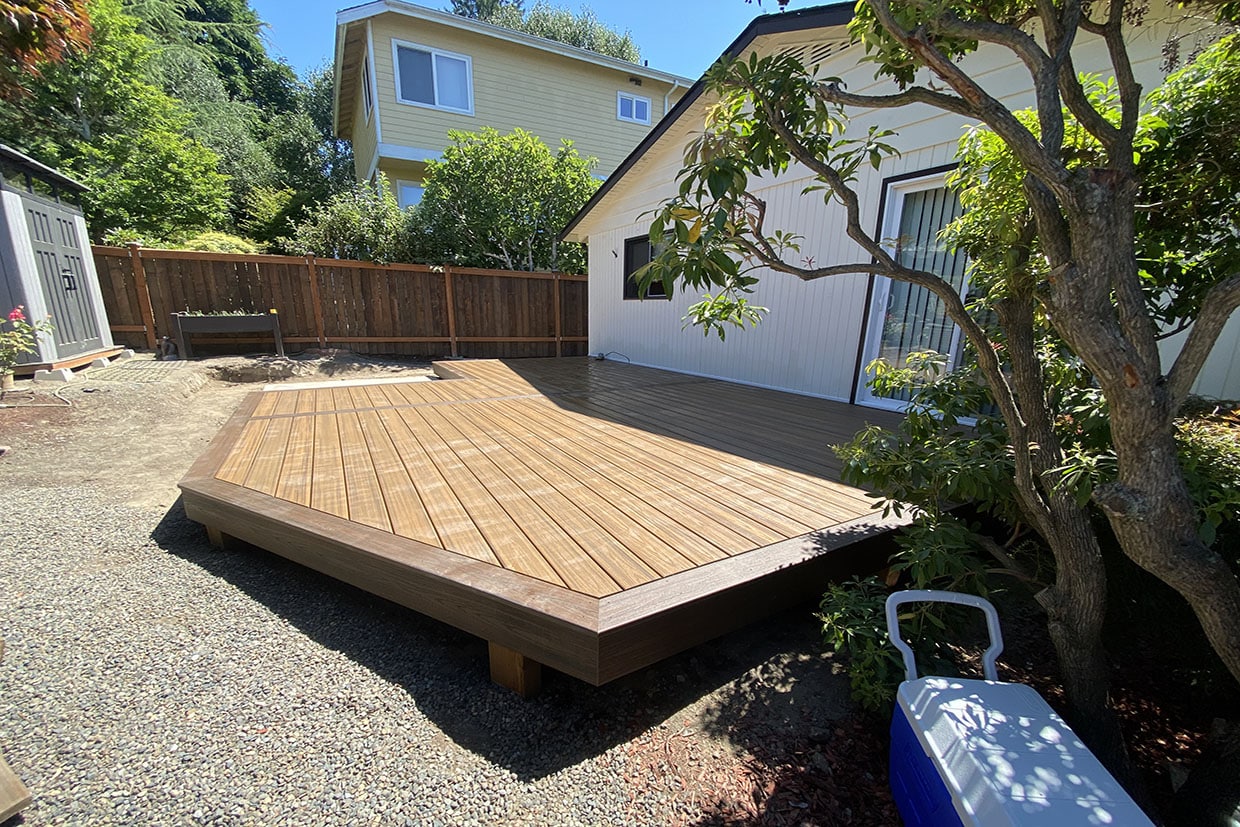 When it comes to building a deck that exceeds expectations, Grand Decks, your local Tualatin Deck Company, is the answer. We realize that a new deck is a significant investment, which is why we approach each project with utmost dedication and precision, leaving no detail overlooked.
From the first consultation to the final walkthrough, we commit ourselves to the highest standards of quality and customer satisfaction. Should there be any issues during the final inspection, rest assured that we, as Tualatin's finest deck builders, won't rest until everything is up to your standards.
We are here to guide you through every decision, ensuring a beautifully crafted and durable deck is the result. Our policy of open and timely communication means we're with you at every step, providing updates and answering any questions you may have.
We measure our success by your satisfaction but don't just take our word for it. Our exemplary customer reviews on Google speak volumes about the level of service we provide at Grand Decks.
Types of Decks Built by Our Tualatin Deck Builders
Renowned for our exceptional craftsmanship, Grand Decks are the go-to Tualatin deck builders. Our unique approach allows us to adapt to various terrains and landscapes, turning your deck visions into stunning realities regardless of available space.
The remarkable creations by our Tualatin deck builder team are as diverse as they are functional. Here are some captivating deck styles we bring to life:
Sunset Decks
Our most common design, these decks are an elegant extension of your living space, affixed to the house with a deck ledger board. It ensures the deck's strength and stability, offering an enchanting outdoor space to relish those breathtaking sunsets.
Sloped Decks
Perfect for houses built on slopes or uneven terrain, our multi-tiered decks offer innovative use of space. These architecturally appealing decks come with a choice of stylish stairs or ramps for easy accessibility and striking aesthetic touch.

Panoramic Wrap-Around Decks
Offering a sweeping 180-degree view, these decks wrap around your home, turning every inch of your property into a picturesque scene. Although requiring more space and materials, the investment pays off with a lifetime of awe-inspiring views and increased property value.
Island Decks
Also known as detached decks, these standalone structures can be built anywhere on your property. The strength and stability of these decks come from using top-grade, pressure-treated woods, ensuring longevity and adherence to code.
Pool-Side Oasis Decks
Whether for in-ground or above-ground pools, we build decks using materials that can resist temperature and moisture changes while offering a slip-free surface. Our pool decks not only add aesthetic appeal but also ensure safe and comfortable access to your pool.
Rooftop Decks
Adding a new dimension to urban living, our rooftop decks transform unused roof space into a stylish outdoor retreat. Perfect for high-rise buildings or homes with flat roofs, these decks provide an elevated spot for relaxing, entertaining, or simply enjoying panoramic city views.Gazebo Decks
Combining the charm of a gazebo with the functionality of a deck, these creations are perfect for gardens or large backyards. The gazebo offers a shaded, semi-enclosed space, while the adjoining deck can be used for open-air activities, making it a versatile outdoor living area.
Garden Bridge Decks
Ideal for properties with water features, landscaping, or uneven terrain, these unique decks act as bridges across different areas of your yard. They can also serve as beautiful viewing platforms to admire your garden.
Elevated Decks
Elevated or raised decks are ideal for homes with a second-story entrance or those built on a hillside. These decks provide a great way to utilize vertical space, offering an impressive viewpoint over your surroundings.

Floating Decks
Also known as platform decks, floating decks are low-to-the-ground structures not attached to the house. This versatile design can be installed anywhere on your property, providing a comfortable and modern outdoor living area.Screened-In Decks
These decks offer the best of both worlds by combining the openness of a deck with the protection of a screened porch. They're perfect for enjoying outdoor activities without worrying about bugs or harsh weather.
Each deck type can be customized according to your style and needs. With Grand Decks, the possibilities are truly limitless!
Decks, Deck Resurfacing, and Fences – near you in Tualatin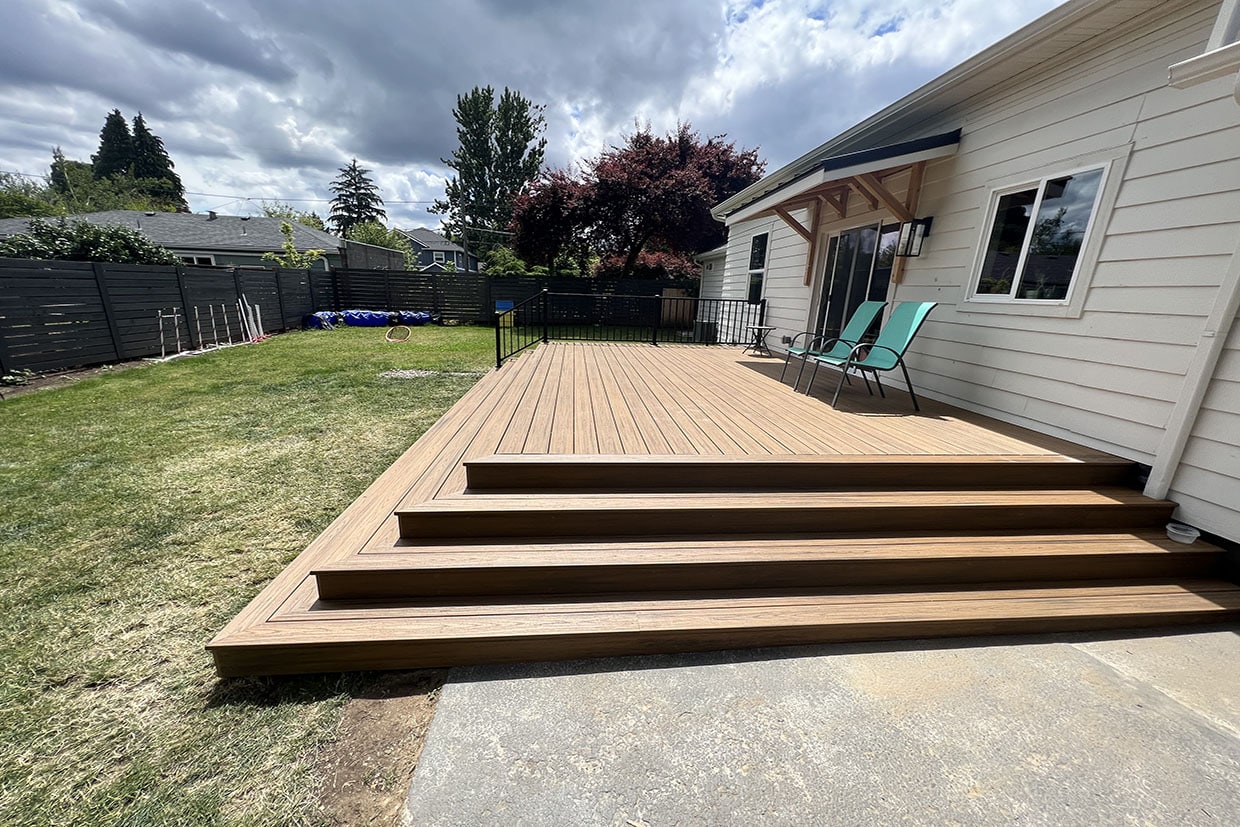 Grand Decks is a Tualatin deck builder that will stay on schedule when building your custom deck. We work efficiently to ensure your deck project gets completed on time. It is imperative for a Tualatin deck contractor to make customers feel their time is valued. If there is ever a delay (due to weather or material availability), we will communicate these details to you.
Building a deck with our Tualatin Deck Company means respect and excellent communication every step of the way!
Grand Decks may have the word "deck" in our name, but we also build incredible fences.  We are also seasoned Tualatin fence builders. Whether you're seeking a privacy fence to create a secluded backyard retreat or a decorative fence to enhance your property's curb appeal, we have you covered. Our custom fences are designed with your needs and built using durable, high-quality materials. 
Another service provided by our Tualatin Deck Company is deck resurfacing. This involves removing the deck boards from a pre-existing deck and utilizing the deck structure beneath to build a new, stronger, more attractive deck. 
Often when working on a deck resurfacing project, a Tualatin deck builder may notice the foundation supports need replacing as well. But you could get lucky and only require the surface of the deck. Regardless, our Tualatin deck builder will communicate all their findings so you can make the choice. 
Many customers decide to move from the traditional wood of their old deck to a new upgrade, using composite material to resurface their deck. Grand Decks uses only the most reliable and top-quality materials, like pressure-treated lumber or premier composite materials.
Regardless of the material you choose, you can trust that Grand Decks, the elite deck builder near Tualatin, will use only the best quality materials to build your deck or fence. 
Grand Decks: Top Deck Builders Near Tualatin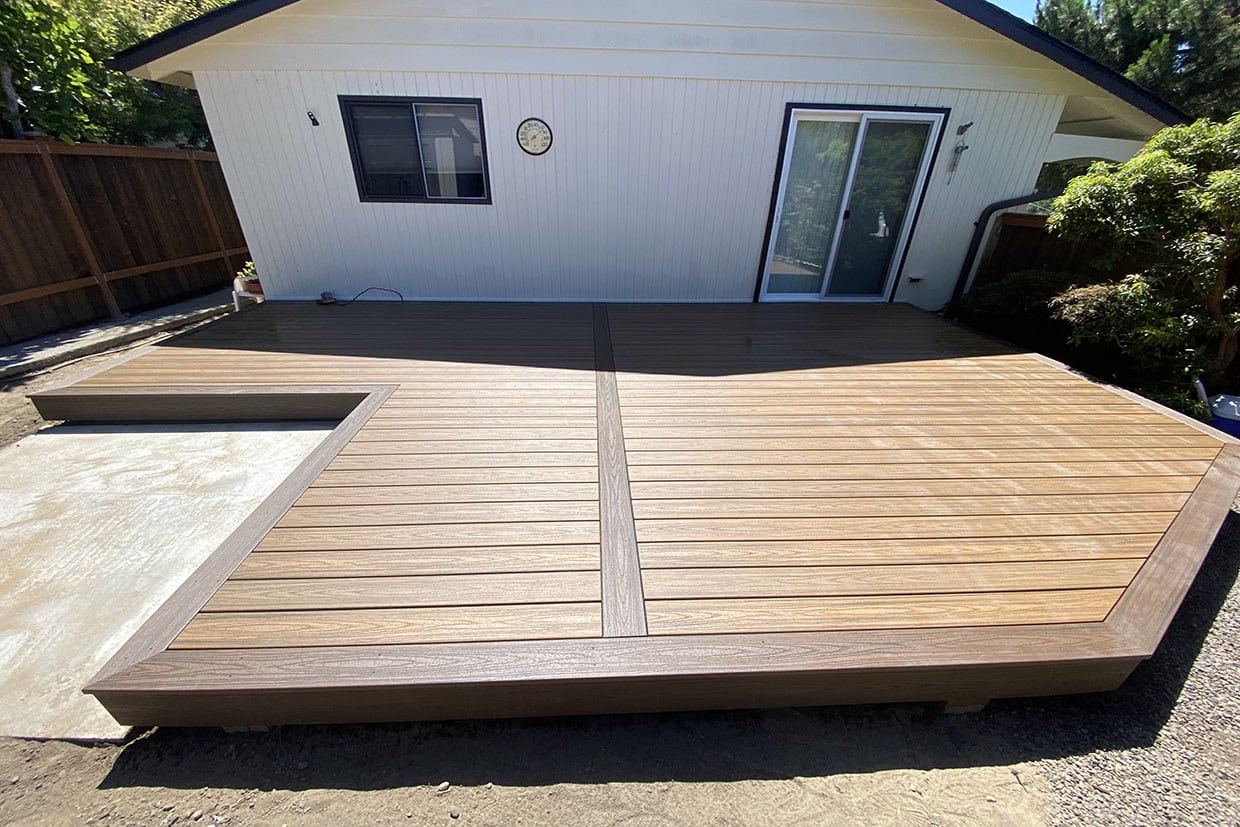 When you do your research, you will find there is just no other deck builder near Tualatin like Grand Decks. We are trustworthy, experienced, and the hardest-working Tualatin deck builder around, and our Tualatin Deck Company promises you top-notch service at a competitive price. Seriously, what more could you ask for when building a deck?
Don't wait to book your free consultation with our design team, as we book up quickly!  Let's get started building the deck of your dreams!