Experience the Beauty and Durability of Cedar Fences
When it comes to securing your property, a cedar fence provides a perfect blend of beauty and durability that stands the test of time. At Grand Decks, we take pride in delivering fence-building services that are a cut above the rest, a sentiment echoed by our satisfied customers. Our reputation for excellence in crafting cedar fences is built on the strong foundation of word-of-mouth referrals from our delighted clients. Above all, our commitment to using high-quality cedar materials ensures that each fence we install not only looks stunning but also offers lasting performance and protection for your property.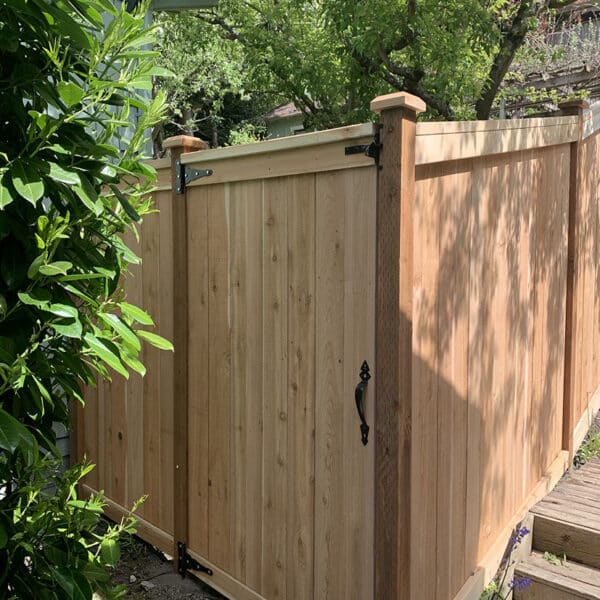 Welcome to Grand Decks: Your Cedar Fence Specialists
Welcome to Grand Decks, your one-stop solution for transforming your outdoor space with the natural beauty and durability of a cedar fence. With our years of experience and a dedication to quality craftsmanship, our dedicated Portland fence builders work closely with you to design and build a custom cedar fence tailored to your needs and preferences. As a homeowner, you may be drawn to cedar fences for their warm, reddish-brown hues, straight grain patterns, and inherent resistance to decay and insects. Cedar is a perfect choice. 
Choosing Grand Decks as your cedar fence builder ensures you receive not only a stunning fence but also a long-lasting and low-maintenance solution to enclosing an outdoor space, whether that be a backyard, a pool, or another outdoor space. We pride ourselves on our fine attention to detail, efficient installation practices, and exceptional customer service, making us the top choice for homeowners seeking to enhance their property's privacy, security, and curb appeal. Trust Grand Decks to bring your vision of the perfect cedar fence to life while providing you with a seamless and enjoyable experience.
Discover the Charm of a Premium Cedar Fence Build By Grand Decks
Cedar fences are popular for their durability, natural beauty, and resistance to insects and decay. Here's an overview of their benefits, installation, and reasons to hire professionals.
Benefits of Cedar Fences:
Aesthetic appeal: Cedar has a warm, reddish-brown color and a straight grain that gives fences an attractive, natural look.
Durability: Cedar is naturally resistant to rot, decay, and insects, making it a long-lasting fencing material.
Environmentally friendly: Cedar is a renewable resource and requires less energy to produce than metal or vinyl fencing materials. 
Weather resistance: Cedar wood contains natural oils that help it withstand harsh weather conditions, like heavy rain, snow, and direct sunlight.
Low maintenance: Cedar fences require minimal maintenance; a simple power wash or gentle scrubbing can remove dirt and mildew.
Privacy: Cedar fences can be built to various heights, providing privacy and security for your property.
Noise reduction: Cedar is a porous wood that has been known to aid in sound resistance. A well-built cedar fence can help reduce noise from nearby streets or neighbors.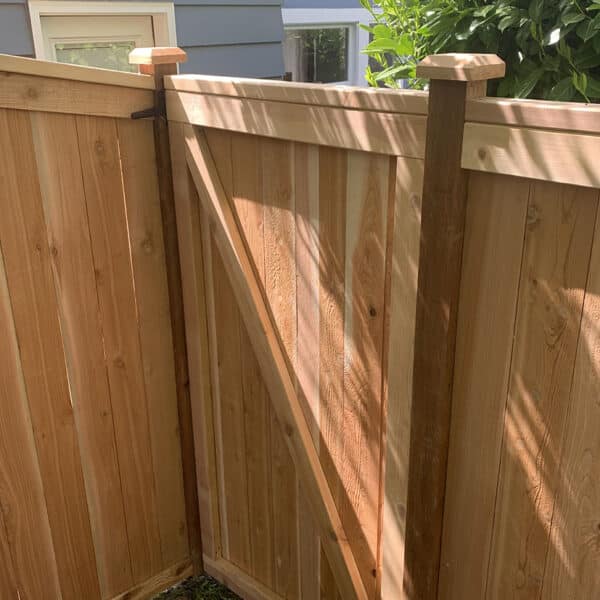 Trust Grand Decks for Expert Cedar Fence Installation
When it comes to cedar fence installation, Grand Decks has perfected the process. With over 5 years of experience in the business, we've ironed out any issues that can come up during a fence installation. We follow a tried and true method of installation that guarantees a perfect cedar fence every time.
Planning
One of our fence contractors will come out and discuss the specifics of your fence project. We will determine the desired fence height and style you are looking for, and we will also do accurate measurements of your outdoor space. Once you've looked over a detailed quote and given your approval, we will obtain any necessary permits and mark the location of utilities.
Measuring and marking
Measure and mark the locations for fence posts, typically 6 to 8 feet apart, but will accommodate any specific design features you are wanting.
Digging post holes
We will then bring in our equipment to dig holes for fence posts, usually 2-3 feet deep and wide enough to accommodate the post and concrete.
Setting posts
Our fence builders will place the cedar posts into the holes, level them, and fill the holes with concrete or gravel. Our team will return once the concrete has fully cured (at least 24 hours).
Attaching rails
Our builders will return to attach horizontal rails (usually 2 or 3) to the fence posts using galvanized screws or nails to withstand the elements and extend the life expectancy of your fence.
Installing pickets
The next step is to attach cedar pickets to the rails. Our professionals will always ensure they are level and evenly spaced.
Finishing touches
If you require a gate, we will complete any final touches and fix any deficiencies. We will then clean up the space so you can enjoy your new cedar fence!
At Grand Decks, our installation process is thorough and precise, ensuring that your fence will stay in place and continue to look great for years to come.
In addition to our quality materials and expert installation, we also offer exceptional customer service. We believe in treating our customers like family, and we go above and beyond to ensure that you're happy with the final result. We listen to your needs, answer any questions you may have, and keep you informed throughout the entire process.
DIY or Hire Professionals?
Choose Grand Decks for Your Cedar Fence Project
Installing a fence might seem like an easy weekend DIY project, but there's a lot more to installing a fence than just digging holes and hammering posts together. You may believe that doing it yourself will help you save money, but when it comes to proper cedar fence installation, the DIY approach can cost you more down the road than hiring a fence contractor to start with. It's important to remember that if you want something done right, it's often best left to the professionals.  
Need more reasons why you should hire professionals? These are the expert services offered by our fence contractors at Grand Decks:
Proper installation:

Our professionals have the experience and tools to ensure your fence is installed correctly, resulting in a longer-lasting, sturdier fence.

Time savings:

Hiring a professional deck-building company like Grand Decks can save you time and effort, allowing you to focus on other tasks or projects.

Safety:

Our deck professionals are meticulously trained to handle heavy equipment and materials, reducing the risk of injury during installation.

Warranty:

At Grand Decks, we stand by our work, so we offer an excellent warranty providing you with peace of mind (read more about our warranty here).

Customization:

Our team at Grand Decks can help you design and build a custom cedar fence tailored to your needs and preferences.

Troubleshooting:

Our Portland fence builders can address any unexpected issues that may arise during installation, such as uneven ground or obstructions.

Compliance:

Our professional fence installers are familiar with local building codes and regulations, ensuring your fence meets all requirements.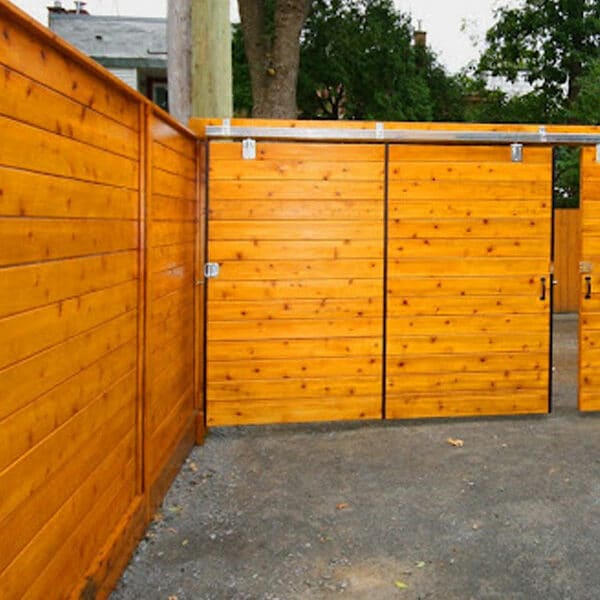 Why Trust Deck Guardian As Your Fence Builder?
We Install Once Because We Measure Twice
At Grand Decks, our fence builders are top-notch professionals who take great care in designing and building cedar fences to be secure and look great. We will work with you to find the perfect design that complements your property and keeps it safe as well. So whether you need a fence to keep your pets in or to keep prying eyes out, we have the expertise to build you an enviable fence that will get your neighbours talking. 
At Grand Decks, we love building Cedar fences and believe that our services are second to none. Our customers keep coming back because they know that they can trust us to get the job done right. Contact us today to see how we can help secure your property with style!
Schedule A Free Consultation With Us