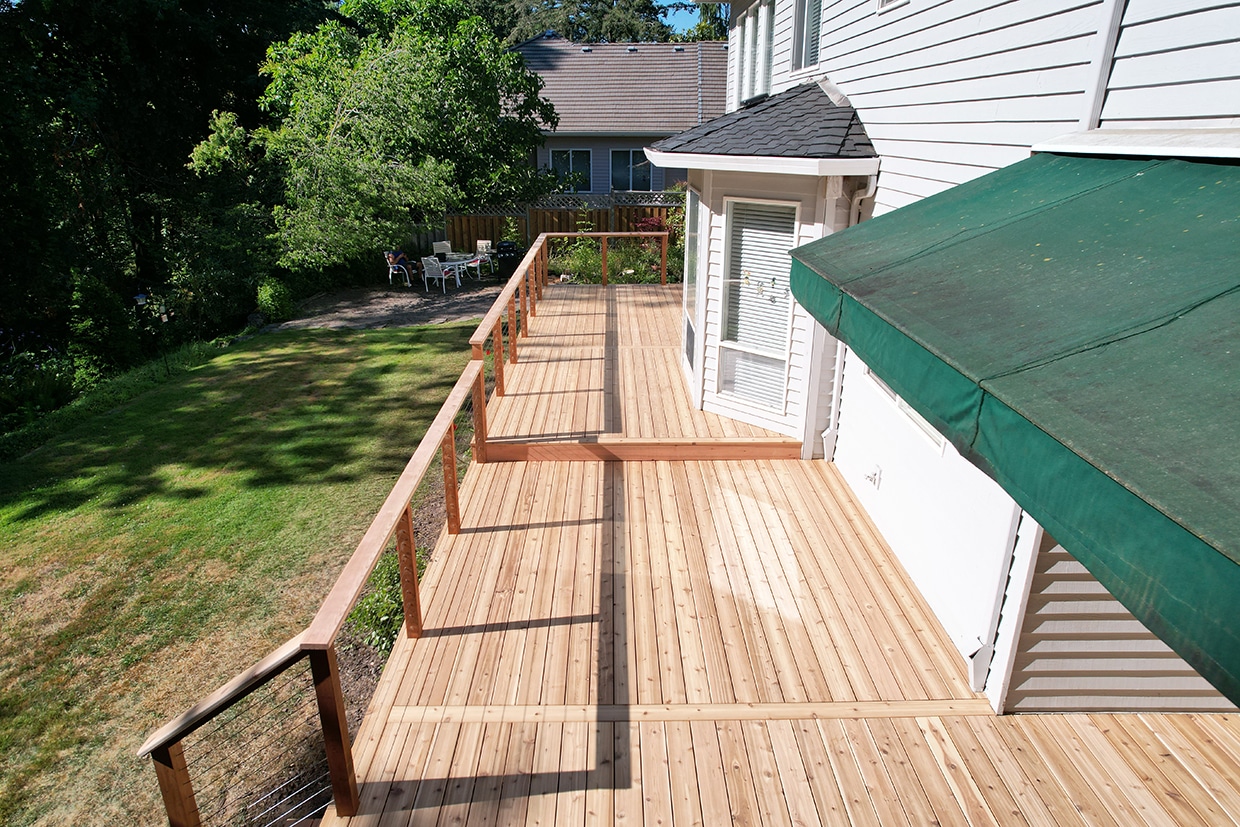 Searching for the perfect Wilsonville deck builder can often seem like trying to find a diamond in the rough. But deck building is more than just a construction task—it's about creating an outdoor retreat that aligns with your vision and lifestyle. As homeowners, we all seek three non-negotiable traits: unparalleled quality, affordable pricing, and a builder renowned for their stellar reputation.
Introducing Grand Decks, your dedicated Wilsonville deck builder. We represent the perfect blend of these three crucial characteristics. Our mission goes beyond just constructing decks—we design tailor-made, stunning outdoor spaces consistently focusing on excellence and value for money.
At Grand Decks, we combine unmatched quality with pricing options that fit every budget. We are more than a deck company—we are your allies in turning your outdoor aspirations into a tangible reality. Opting for Grand Decks means choosing exceptional workmanship, unbeatable value, and a deck you'll love and enjoy for countless years ahead.
In Search of an Elite Wilsonville Deck Company?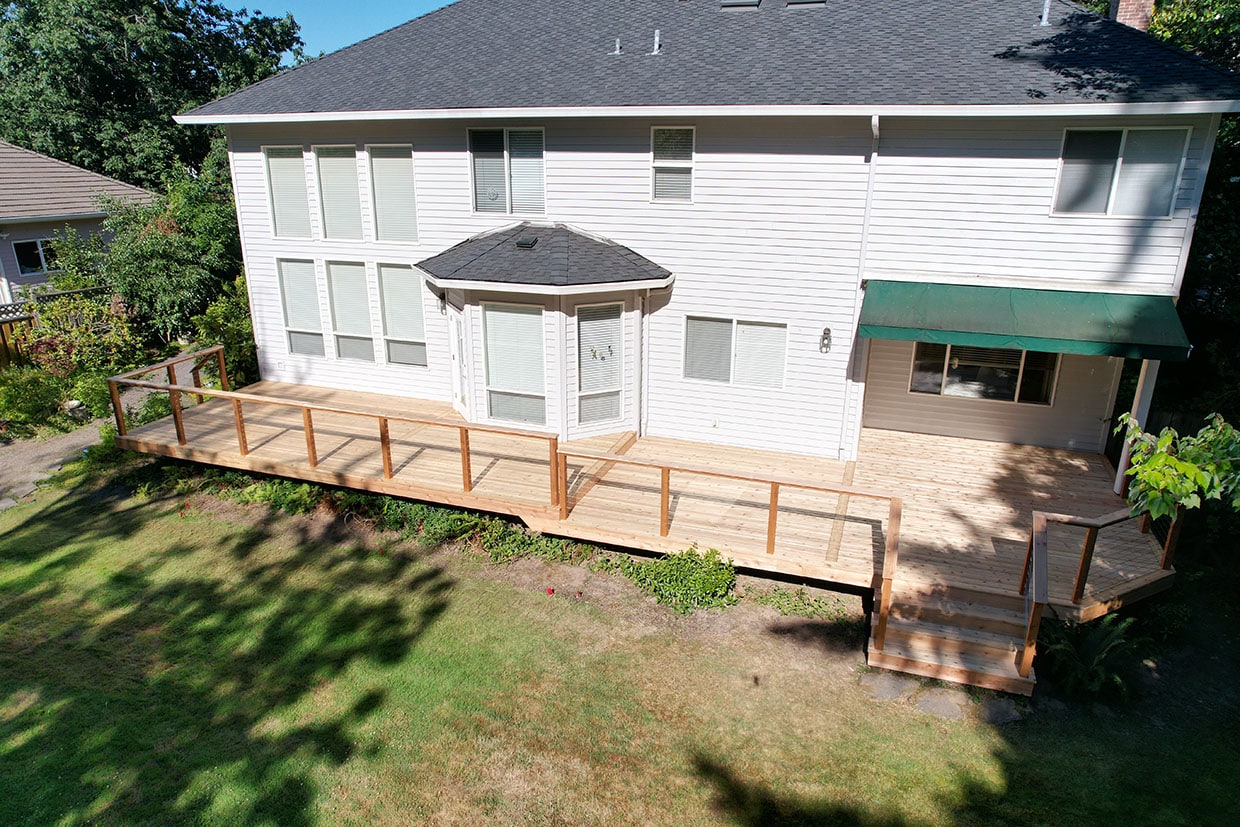 Don't let pursuing the ideal Wilsonville deck builder become a hasty online search. Instead, aim to bring your aspirations into harmony with a company that embodies these vital attributes:
Rich Heritage: At Grand Decks, we're not just any deck builders; we're craftsmen. Our deep-rooted experience translates into our ability to evolve and meet any challenge with innovative, tailored solutions. Our wealth of experience symbolizes our sustained dedication to leading the industry.
Full Legal Compliance: As a fully licensed and insured Wilsonville deck builder, we deliver not only superior work but also peace of mind. It's simple: Never settle for a company that can't provide these fundamental guarantees.
Exemplary Standards: We steadfastly uphold all building standards, and we even handle all necessary permit requirements on your behalf. We're committed to exceeding your expectations and creating a seamless experience.
Unique Designs: We believe that each homeowner is unique, and their deck should be too. At Grand Decks, we offer a blend of custom designs and ready-made deck plans. Regardless of your vision, we have the expertise to make it a reality.
Reliable Warranty: We don't just build decks; we build confidence. Our warranties cover all work and materials, providing the assurance that your investment will endure.
Timely Deliverables: Time is precious, and at Grand Decks, we honor that. We work with you to establish a convenient timeline, ensuring your project is completed punctually without compromising on quality.
Never compromise on these factors when choosing a Wilsonville deck builder. Each one is essential for a smooth, satisfying deck-building journey. At Grand Decks, we promise not just superior service, craftsmanship, and quality at a reasonable price, but a partnership in creating your dream outdoor space. If your quest is for the perfect deck builder, look no further. Let's bring your perfect deck to life with Grand Decks!
What type of decks can Grand Decks build in Wilsonville Deck Builder?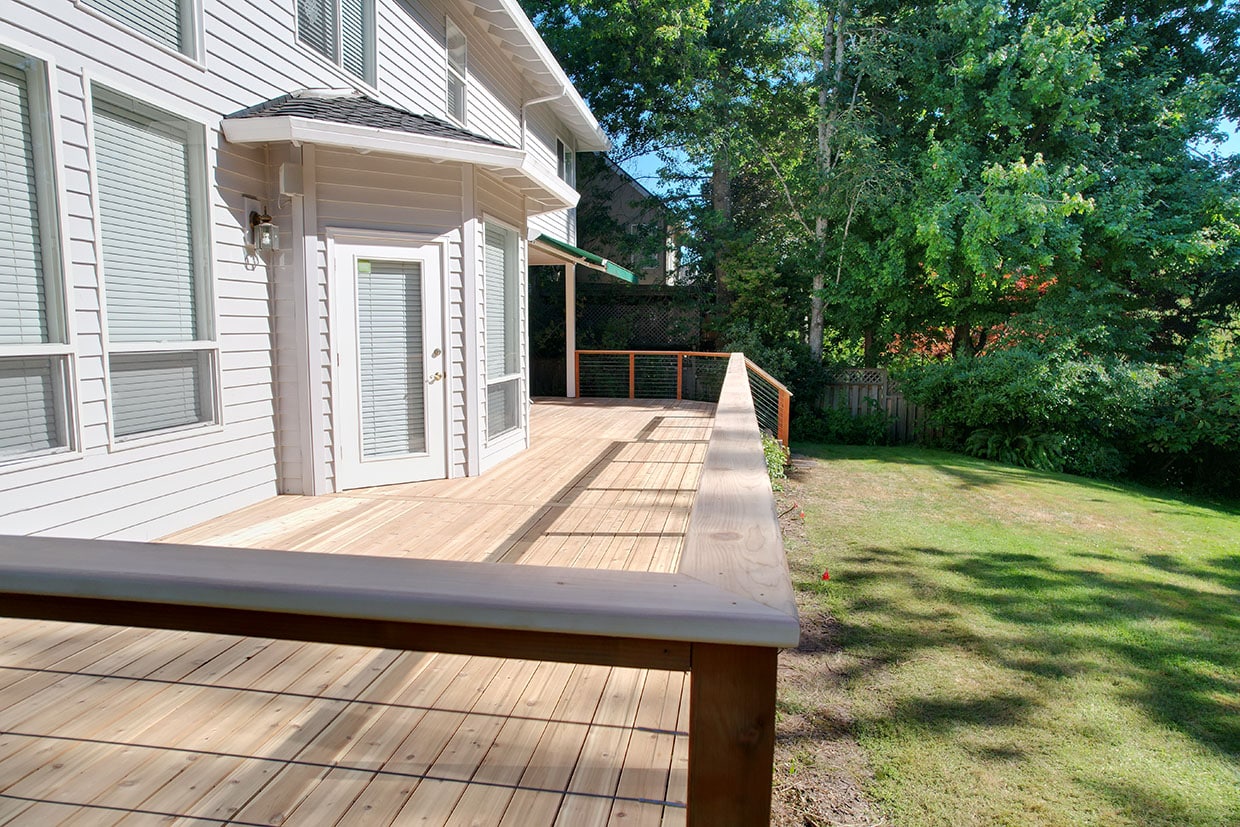 Grand Decks is a Wilsonville builder with an excellent track record. We've built all types of decks for all terrains and landscapes. Whether you have a little or a lot of space, our deck builder near Wilsonville will take your deck vision and make it a reality. 
The decks built by the premier Wilsonville deck builder come in all shapes and sizes. Here are a few of the common types of decks we design, construct and install for our happy customers:
As your trusted Wilsonville deck builders, Grand Decks consistently delivers exceptional deck designs tailored to your landscape. Regardless of space constraints, we turn your deck dreams into awe-inspiring realities.
Our Wilsonville deck builder team designs, constructs, and installs a wide range of deck styles. Here's a glimpse into some of our popular creations:
Veranda Style Decks
These popular attached decks, reminiscent of a traditional veranda, provide an enchanting extension to your home. Anchored to your house with a sturdy ledger board, these decks promise strength, durability, and the perfect space for those grand soirees.
Terraced Garden Decks
Ideally suited for houses on slopes or uneven terrains, our multi-tier decks creatively utilize the available space. These decks come with a range of stylish stairs or ramps, providing convenient access and a striking visual element.
Grand View Decks
Our wrap-around decks offer an unparalleled 180-degree view of your surroundings. While they require more space and materials, the investment significantly boosts your property's aesthetic appeal and value.
Freestanding Decks
Our freestanding or detached decks can be installed anywhere on your property. We use premium, pressure-treated woods to ensure these standalone decks maintain their shape, offer stability, and conform to safety codes.
Waters-Edge Decks
For in-ground or above-ground pools, our pool decks are crafted from materials that can endure temperature and moisture changes and provide a slip-free surface. Our expert Wilsonville deck builders will help you select the ideal material for your pool deck.
4 Top Reasons You Should Call Our Wilsonville Deck Builders!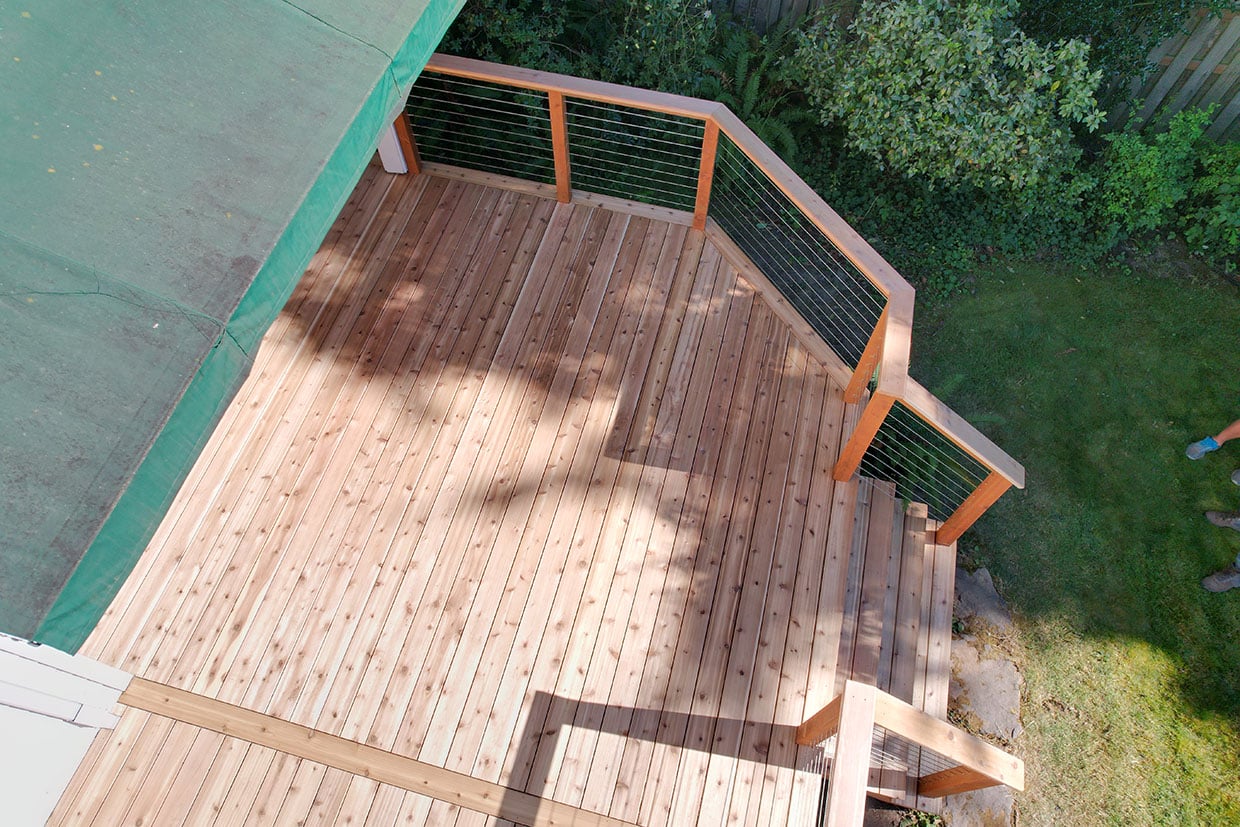 Trust the task of crafting your dream deck to Grand Decks, the premier deck builder in Wilsonville. We understand the gravity of building a new deck as a substantial investment and handle every project with extreme care and attention to detail.
We're with you from the initial consultation to the final inspection, ensuring a smooth and satisfying deck-building experience. If any issues arise during the final review, we, as a top-notch Wilsonville deck builder, commit to addressing and resolving them until you are completely content with the results. Here are 4 the top reasons you should call our Wilsonville deck company today:
End-to-End Service:

We're committed to walking with you from the initial consultation to the final walk-through, ensuring every detail is meticulously taken care of. If there's an issue during the final review, we'll rectify it to ensure you're fully satisfied with your new deck.

Transparent Communication:

We understand the importance of clear and timely communication. We're here to answer your questions and provide you with regular updates throughout the process, ensuring you're always in the loop.

Pursuit of Perfection: Our commitment to your complete satisfaction goes beyond our words. We are constantly striving to be better than yesterday, and in turn, you get the most exceptional services, whether that's a new custom deck, resurfacing an old one, or needing a new fence.

Satisfaction Guaranteed:

We take pride in ensuring our customers are completely satisfied every time. Our continuous customer referrals are a testament to our commitment and the quality of our work. Choose Grand Decks for an unparalleled deck-building journey!
Our ultimate reward is your satisfaction. But don't just rely on our words; our Google reviews reflect our exceptional quality services; our customers love working with us! Grand Decks doesn't merely build decks; we bring your outdoor deck dreams to life. 
Decks, Deck Resurfacing, and Fences – near you in Wilsonville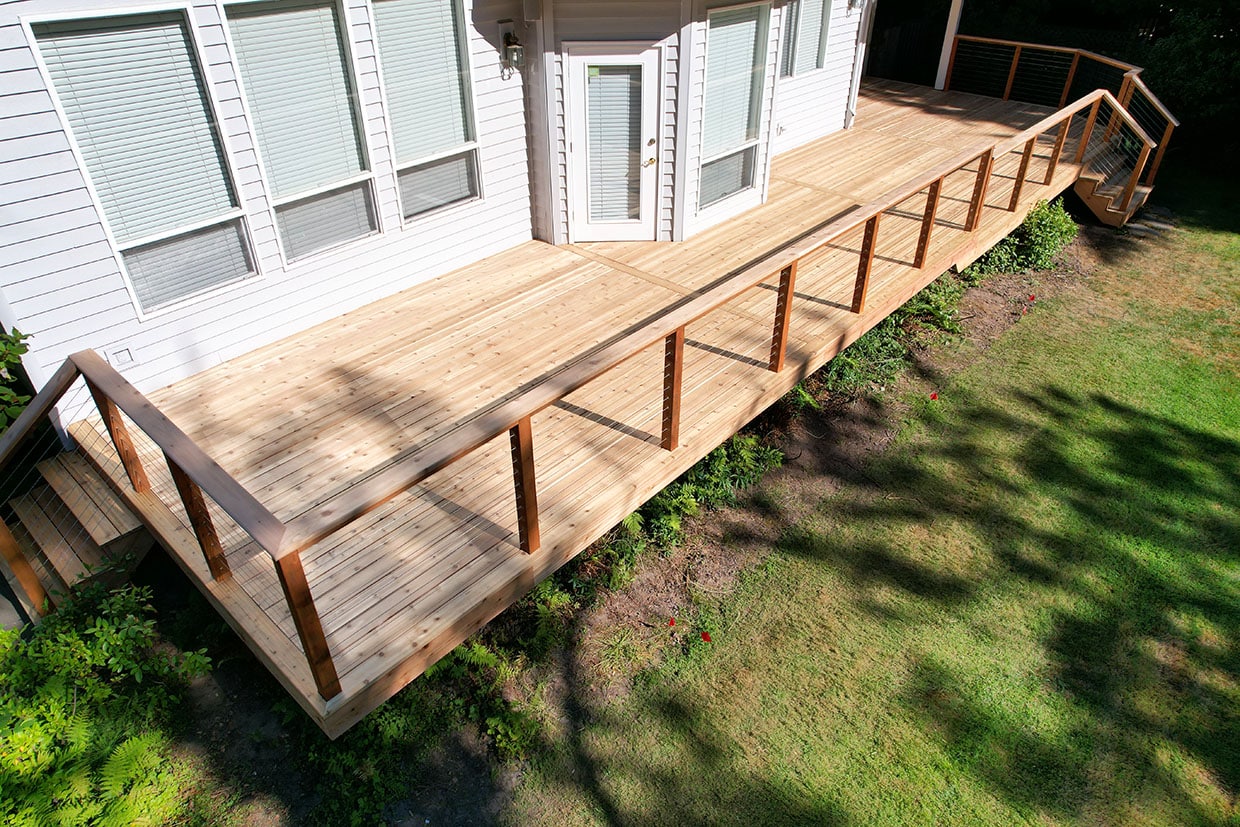 Grand Decks is a Wilsonville deck builder that will stay on schedule when building your custom deck. We work tirelessly to ensure your deck project gets completed on time. It is a top priority for a Wilsonville deck contractor to make customers feel their time is valued. If there is ever a delay (due to weather or material availability), our Wilsonville Deck Company will communicate these details to you right away.
Grand Decks may have the word "deck" in our name, but we also build incredible fences. Fences are in high demand in the Wilsonville area right now, as many residents are redoing old fences. Our Wilsonville Deck Company is happy to help new customers looking to build a new fence.  
At Grand Decks, we bring the same level of craftsmanship and attention to detail in building fences as we do with decks. We offer various fencing styles, from traditional wooden fences to more contemporary designs, such as aluminum, vinyl, and composite materials. Each fence is customized to fit your specific aesthetic and privacy needs. You can count on our experienced team to deliver a fence that not only secures your property but also enhances its curb appeal.
Another service provided by our Wilsonville Deck Company is deck resurfacing. This involves removing the deck boards from a pre-existing deck and utilizing the deck structure beneath to build a new, more robust, more attractive deck. 
Often when working on a deck resurfacing project, a Wilsonville deck builder may notice the foundation supports also need replacing. But you could get lucky and only require the surface of the deck. Regardless, our Wilsonville deck builder will communicate all their findings so you can choose how to proceed. 
Many customers decide to move from the traditional lumber of their old deck to a new upgrade, using composite material to resurface their deck. Grand Decks uses only the most reliable and top-quality materials, like pressure-treated lumber and high-quality composite materials.
Whatever material you choose, you can trust that Grand Decks, the premier deck builder near Wilsonville, will use only the top materials to build your deck. 
Grand Decks: Expert Deck Builder Near Wilsonville Deck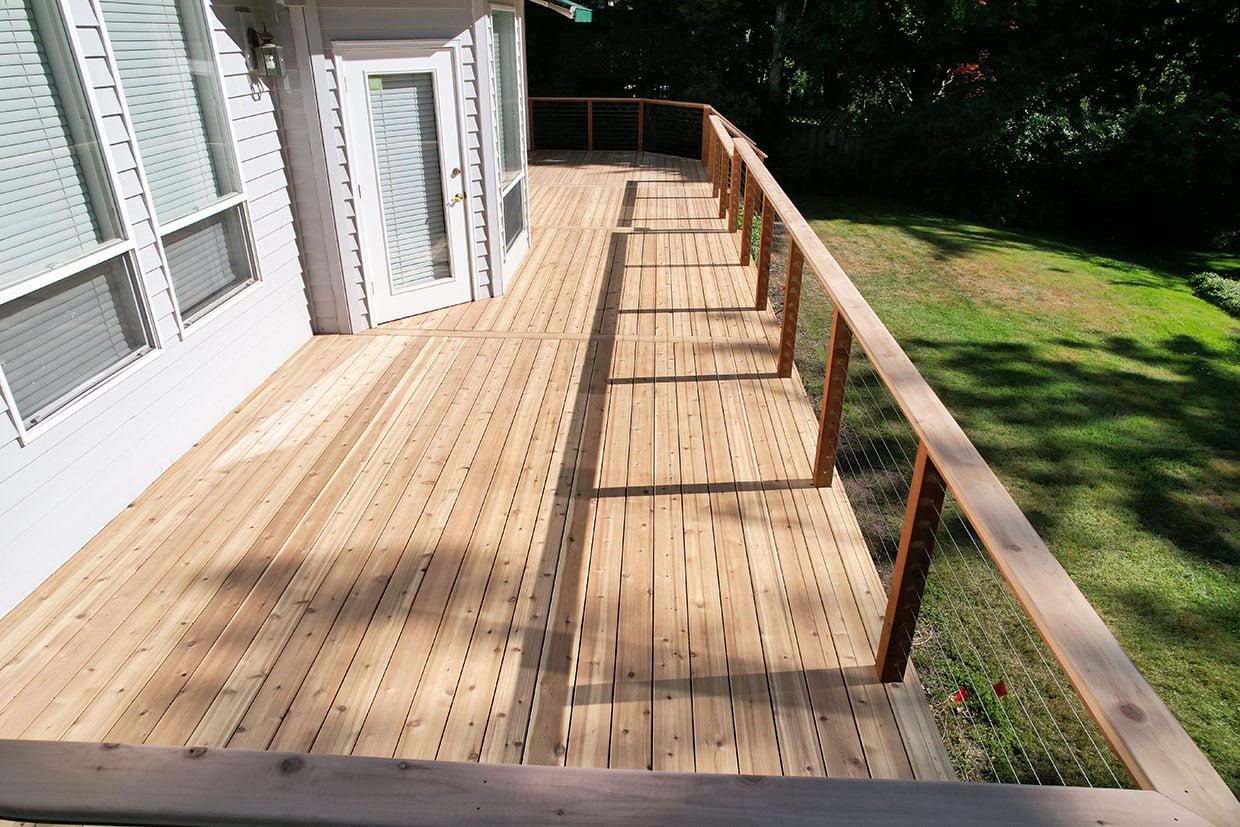 Most people do some research online before hiring the best Wilsonville Deck Company.  So you have already found that there really isn't another deck builder near Wilsonville like Grand Decks. Grand Decks exceeds expectations by providing the highest-quality workmanship- just take a look at some of our previous work! Not only are we a trustworthy and experienced deck contractor, but our Wilsonville Deck Company promises you top-notch service at a competitive price. What more could you ask for when building a deck or fence?
Don't wait to book your free consultation with our design team; we book up quickly!  Let's work together to start building your dream deck!