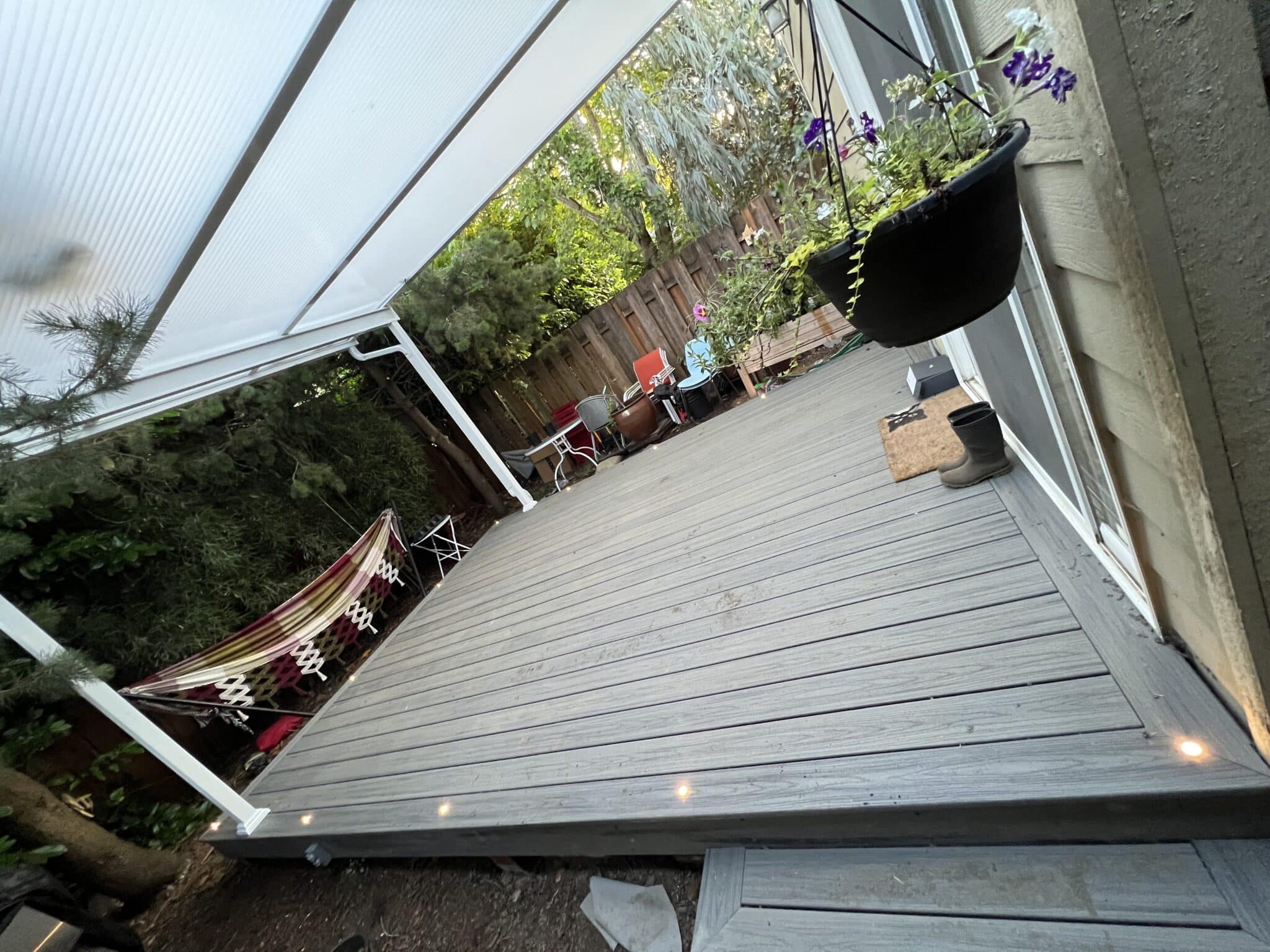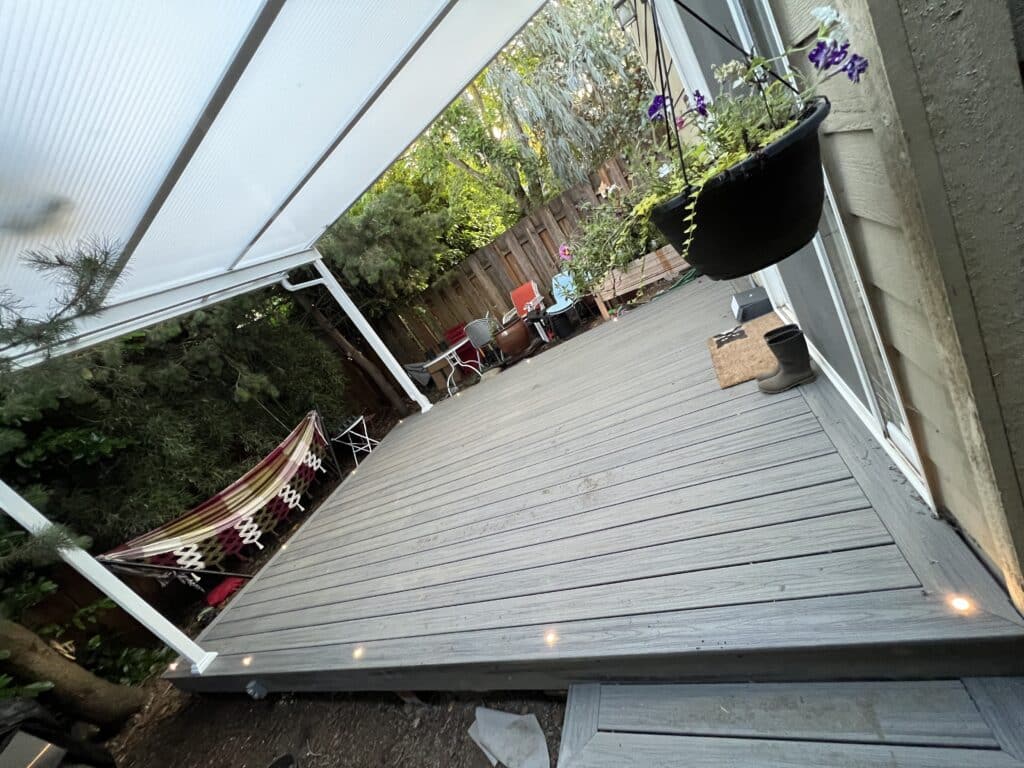 Our Clackamas deck builder, Grand Decks, is a professional deck-building company who has constructed some of the most beautiful and unique decks in the Clackamas, Portland Metro Area.
If you value exceptional workmanship, you have found the perfect deck builder. Grand Decks is a premiere Clackamas Deck Company that offers exceptional service to meet all your deck-building and fence-building needs.
We build decks all over the Portland Metro Area, and if you call Clackamas home, you want a deck builder who is familiar with the area, is on top of all the latest deck trends, and can build an incredible deck. Grand Decks is the Clackamas deck builder for you! We are proud to serve the Clackamas area. 
In Search of a Premier Clackamas Deck Building Company?
Finding a Clackamas deck builder takes time to sift through pages of Google to find the best of the best deck builder near Clackamas. Yes, there is a lot of competition out there in the Portland Metro Area, but one deck builder stands out from the rest. That's Grand Decks. We are an unrivaled Clackamas deck builder that builds beautifully crafted decks for competitive prices.
If you are a homeowner looking to improve the value of your home or property, you may be looking for a deck builder near Clackamas.  Building a deck can improve the desirability of your home. If you want an expert deck or fence builder, you've found the best in the Portland Metro Area, Grand Decks. 
Our Clackamas deck builder can build a carefully and precisely designed custom deck, and we also have options for pre-designed decks to choose from. Regardless of the type of deck, you're looking for; our Clackamas Deck Company has a deck that will suit your lifestyle.
Experienced Craftsmanship:

With over 5 years of experience, we don't just build decks – we live and breathe them! Our

Clackamas deck builders

are seasoned professionals who transform outdoor spaces into an extension of your home.

Fully Registered & Insured:

We've got all bases covered, literally. Our team is well-versed in the labyrinth of building codes and safety standards, ensuring a smooth, stress-free build that meets every regulatory standard.

Comprehensive Warranty

: We stand by our work and the products we use. Our

Clackamas deck company

offers robust warranties, giving you peace of mind with every board and screw we install.

Customer-Centric Design:

Your vision is our mission. We listen, engage, and respond to your ideas and desires throughout the design process. Your dream deck is just as important to us as it is to you!

Timely Execution:

Deadlines are sacred to us. Weather and material delays can sometimes disrupt timelines, but rest assured, we always keep communication lines open, so you're never left in the dark.
At Grand Decks, we're more than just deck builders – we're your partners in creating a space that will be the envy of Clackamas. Let's build something grand together!
Grand Decks Specializes in All Types of Decks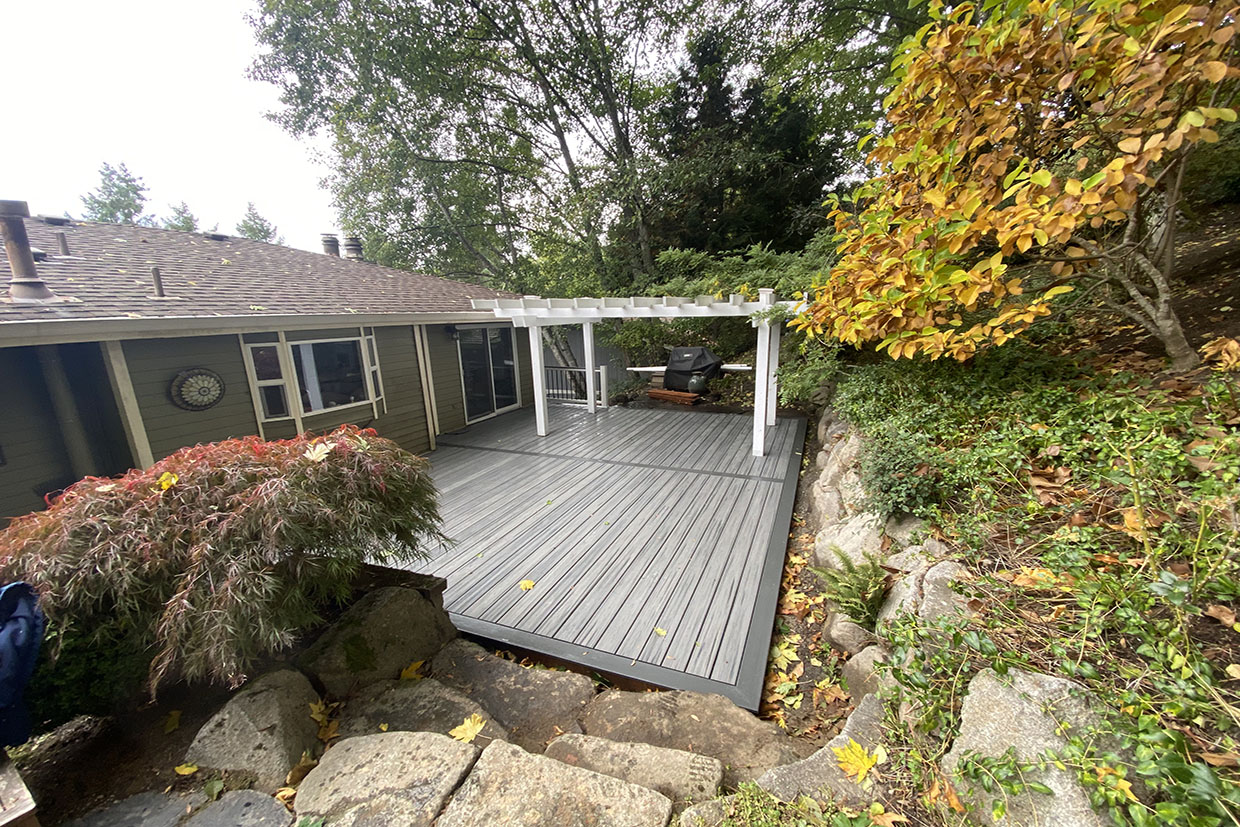 You can build all types of decks with a Clackamas deck builder. However, you first need to establish a clear idea of what you want out of your deck. You can find ideas online, flip through a home improvement magazine, or check out some of the amazing decks our Clackamas deck company has built over the years.
Decks are truly unique, just like fingerprints. They can be crafted in an endless variety of shapes, sizes, and styles to match your taste and needs. As you consider your dream deck, here are a few essential aspects to consider:
Deck Size:

Whether you're dreaming of a cozy corner for quiet evenings or a sprawling multi-level entertainment hub, the size of your deck plays a crucial role in shaping your outdoor space.

Deck Shape:

Break free from the traditional rectangular layout. How about an octagonal deck that adds a touch of geometric charm?

Material Choice:

From the warm tones of natural wood, and the durability of composite decking to the exotic allure of IPE wood, the material you choose can significantly influence your deck's aesthetics and longevity.

Deck Style:

Decks come in a host of styles. Attached or detached? Single or multi-tier? Wraparound or a pergola? Or maybe an above-ground pool deck? Let your imagination run wild.

Stair Design:

Cascading stairs, classic L-shape, recessed steps, or even an ADA-compliant ramp – your choice of stair type can add an extra layer of functionality and design to your deck.

Deck Patterns:

Why settle for ordinary when you can opt for creativity? Diagonal lines, chevron patterns, or something uniquely yours – our

Clackamas deck builders

can bring any design to life.

Railing Selection:

The right railing can frame your deck perfectly. Aluminum, wood, iron, vinyl – choose a style that complements your deck and ensures safety.

Deck Resurfacing or a Brand New Deck:

Depending on your needs, our expert deck builders can breathe new life into an existing deck with a resurfacing job or create an entirely new deck from scratch.
There is so much to think about when deciding on the right deck for your space. There are so many different types of decks to choose from, and these are a few things you need to consider before contacting our Clackamas deck company. 
Remember, this is your deck – let it reflect your style and aspirations. And our Clackamas deck builder is here to make it a reality! When you book a FREE consultation with a Clackamas deck builder, you should have a general idea of the type of deck you'd want to build in your outdoor space.  
Decks, Deck Resurfacing, & Fences – Near You in Clackamas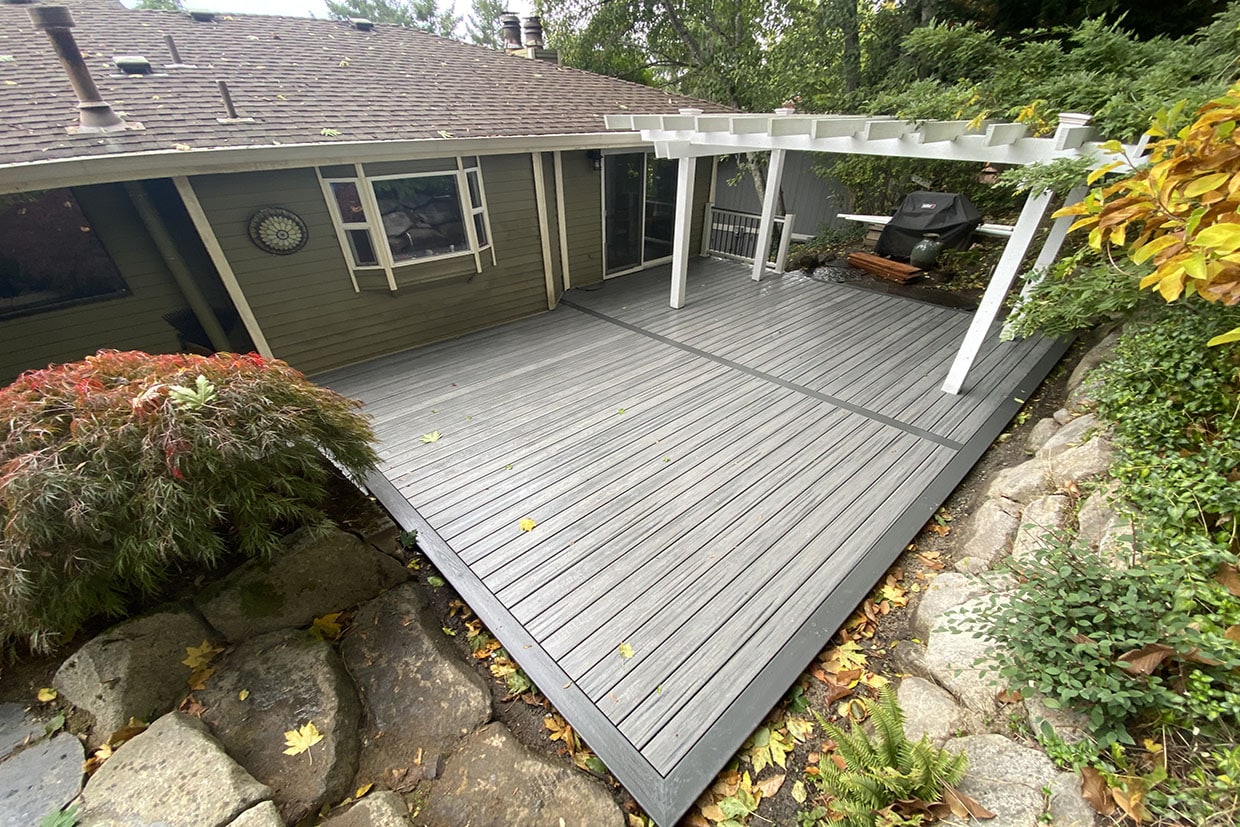 A Clackamas deck builder with the talent and expertise to build all types of decks is precisely what you want when investing in building a new deck or refinishing an old one. Grand Decks is a Clackamas deck contractor that will design and customize your deck to meet your unique needs.
 If your yard is sloped or you've built on a hill,  we can build a multi-tiered deck. 

If you want your hot tub incorporated into your deck, we can design the perfect space to enjoy your spa.

If you need a ramp for accessibility, we can design it to be ADA-compliant.

If you want built-in seating, a pergola, a Juliet balcony, etc., we have the skills and know-how to make all of these possible. 
Our Clackamas deck builder can build a ground-level, free-standing deck if you want to build a deck anywhere on your property. Even if you have an above-ground pool, we can build a raised deck to create a great outdoor lounge space.
Even if you have an old deck, we provide resurfacing to make your space feel new. This could involve replacing just the deck boards or the entire structure. Our Clackamas Deck contractor will assess your deck needs when we arrive for your initial consultation. Everything will be clearly outlined in a detailed quote prior to starting the project.
If you're in the market for a new fence, whether it be for security or aesthetics, our Clackamas fence builders are happy to help you out. Hiring professionals can not only save you money in the long run, but they can also guarantee you a strong and sturdy fence to last you for years to come.
We work exclusively with the best quality materials and warranty all products. We're a deck builder near Clackamas that respects deadlines. Of course, some things are out of our control (weather or material availability), but we always do our best to keep you informed and meet our deadlines. 
Best Reasons to Use Composite Decking Material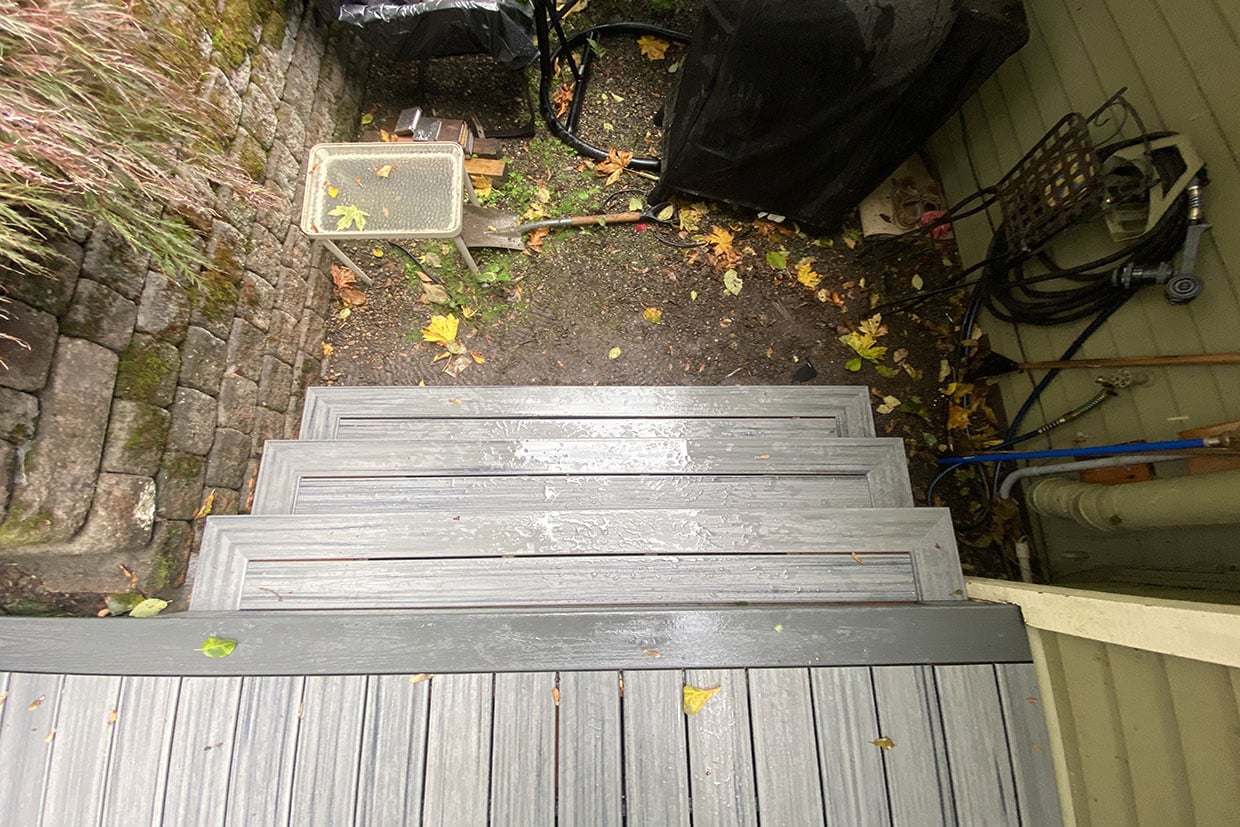 If you are resurfacing an old deck, a great choice would be to use composite material. Not only is this a new modern technology that lasts, it requires minimal upkeep and maintains its beauty for decades.  
The composite material does not warp. It's surprising to learn that traditional wood decks will warp during temperature fluctuations. This is a massive bonus to using composite materials to build your new deck. 
The newest technology in composite material makes these modern decks entirely heat resistant. In fact, composite materials are designed to withstand hot climates better than traditional wood.
The lasting power of composite material far outweighs that of wood decks. There is minimal upkeep, and composite decks look just as great 15 years later than they did on the day they were installed. 
Why Hire Grand Decks the Top Clackamas Deck Builder?
If you don't know by now, Grand Decks is a premier Clackamas deck company with years of providing top-notch service under our belt. We have designed, built, installed, repaired, and resurfaced all types of decks, and we are proud to have transformed the backyard and the lives of hundreds of our clients. Nothing is better than seeing the look of joy in the eyes of our customers when they see their new deck!
A deck is more than just a backyard structure. Decks bring friends and family together and make memories come to life. Our hard work and dedication have brought us many happy customers over the years, and they have been kind enough to leave us excellent reviews. We have also gained a lot of new customers through word of mouth, which speaks to our work ethic and quality construction.
If you want a custom deck built in your backyard, contact a deck builder near Clackamas like Grand Decks. Our creative design team has created some of the most luxurious and beautiful decks. Just look at some of the awesome decks built by our Clackamas Deck Company.  
Grand Decks: Expert Deck Builder Near Clackamas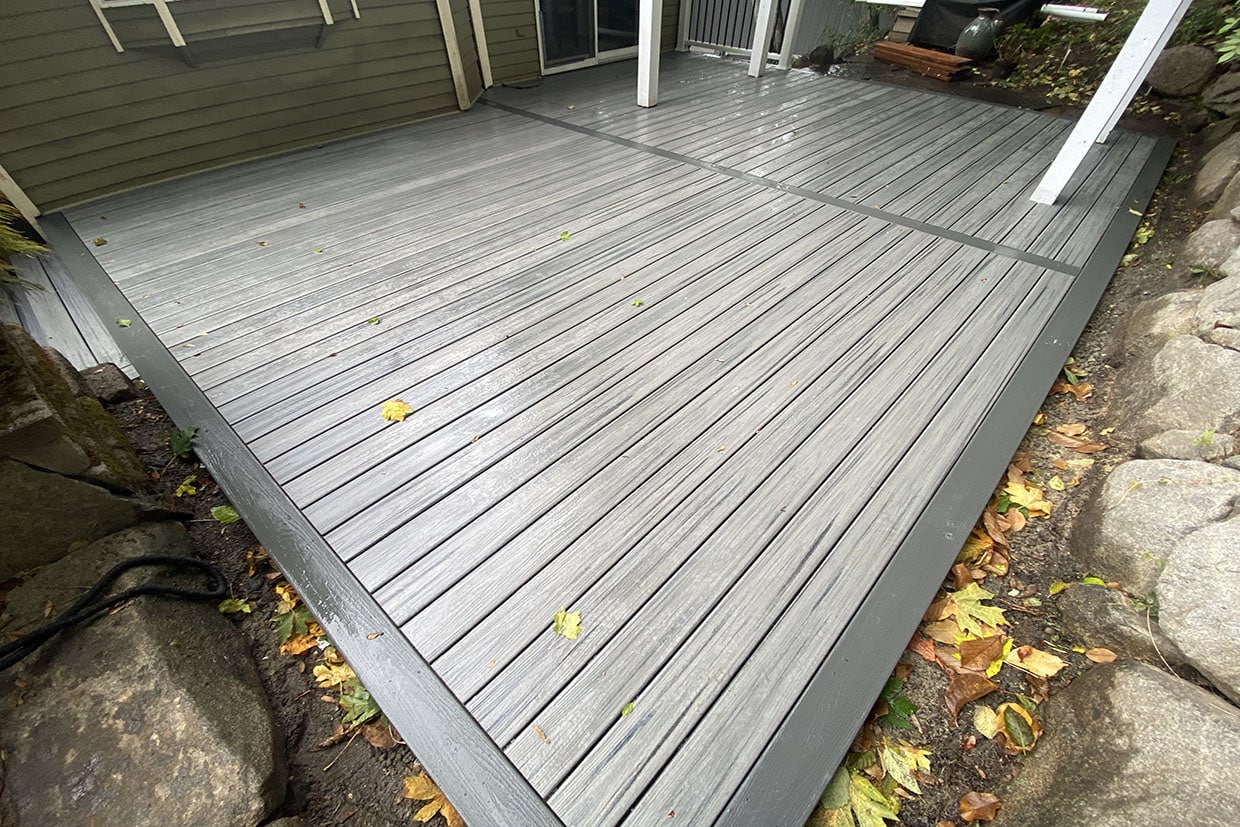 Discover the true joy of outdoor living with Grand Decks, the expert Clackamas deck builders serving beautiful communities all across the Portland Metro Area. Just a quick click or a simple phone call puts you in touch with us to transform your backyard into an enchanting outdoor retreat.
Life in Clackamas means immersing oneself in the breathtaking scenery, from tranquil walking trails to picturesque landscapes. If you're fortunate to call Gresham home, a deck is a perfect way to take in the sights without leaving your doorstep. With Grand Decks at your service, the great outdoors is just a deck away! Give a call or click below to start your deck-building journey with Grand Decks!