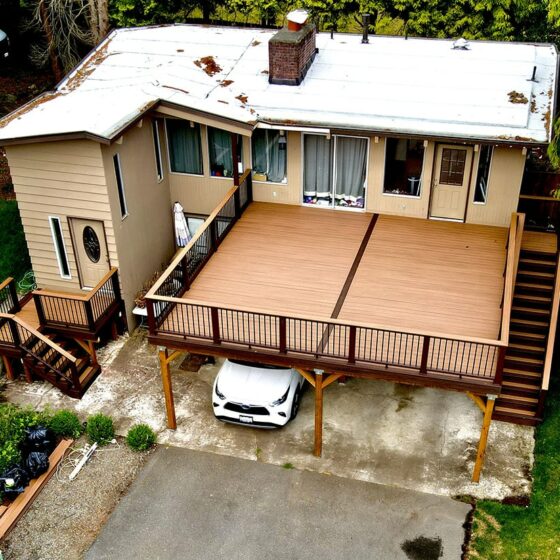 At Grand Decks, our deck-building services are rated # 1 in the Portland metro area and there are many reasons why. From Happy Valley to Beaverton, Grand Decks provides exceptional deck design, new deck construction, deck resurfacing & custom fences that will blow you away! 
Our dedicated Portland deck builders take great pride in providing the highest quality experience for each and every one of our clients. Whether you are building a new deck, resurfacing an old one, or building a beautiful cedar fence, your outdoor oasis starts with Grand Decks. You just can't go wrong when you partner with Grand Decks. Some of the top reasons for teaming up with our expert builders are listed below.
Enhancing Your Living Space Is Our Passion
At Grand Decks, we are passionate about enhancing your living space. We believe that a beautiful outdoor area can transform the way you live and add great value to your home. We take pride in our work and do what we love because we love what we do. Our professional deck builders are dedicated to fulfilling all of your outdoor addition dreams, and we won't stop until you are completely satisfied. 
At Grand Decks, we know that a happy customer is a repeat customer, and that's why we go above and beyond to ensure that your experience with us is nothing short of amazing. Let us WOW you with our exceptional workmanship, attention to detail, and commitment to excellence. Choose Grand Decks for all your outdoor needs, and experience the difference passion makes.
Our Clients Love Our Decks
We can't say it any simpler than that! At Grand Decks, we consistently receive outstanding ratings and glowing reviews from our satisfied clients. Our philosophy is to provide steadfast dedication from the start of your project until its successful completion.
Our deck builders are all highly skilled, hardworking, polite, and respectful of your time and personal space while working on your new deck or fence project. Because of this, our clients appreciate our honesty, transparency, hard work, and excellent customer service every step of the way. It is our pleasure to work with each and every one of our amazing clients!
Deck Resurfacing Done Right
When it comes to deck resurfacing, Grand Decks is simply the best. Our amazingly skilled deck builders know exactly how to breathe new life into an old, worn-out deck, making it look like brand new again. But that's not the only reason why our customers keep coming back to us.
At Grand Decks, we believe in doing things right the first time. That means we take the time to thoroughly inspect your deck and assess its needs before beginning any work. Every project is unique and requires a unique solution. At Grand Decks, we assess each project individually and don't offer a one-size-fits-all approach when we resurface a deck. This ensures that we provide you with the best solution possible and that your deck will be the envy of your neighbours and look fantastic for years to come.
Our Fences Secure Your Property With Style
At Grand Decks, we believe that our fence-building services are a cut above the rest, and we're not the only ones. Our customers keep coming back and recommending friends and family to use our fence and deck-building services. The main reason why is our high-quality workmanship. When it comes to fences, we take great care in designing and building them to not only be extremely secure but also to look amazing.
Our Portland fence builders work with you to find the perfect design that complements your property but also improves the safety and security of your home. Whether you need a fence to keep your pets in or to keep prying eyes out, we have the expertise to get the job done right, and our customers agree!
Exceptional Results Guaranteed
When you entrust Grand Decks with your fence or decking project, you can expect the absolute best. Whether installing a brand-new deck, refinishing an existing one, or designing and building a gazebo, pavilion, or louvered roofing system, our specialists at Grand Decks will expertly guide you in selecting the finest materials and products tailored to your unique requirements and budget.
We stay ahead of the curve by incorporating the latest design trends and innovative materials into your project. At Grand Decks, we deliver a breathtaking, functional, and conversation-worthy masterpiece that will continue to impress for years to come.
Total Transparency, No Surprise
At Grand Decks, we believe in absolute transparency for all our deck-building services, which means no hidden costs or surprises. The only addition to your final invoice will be the exact cost of the permit from your local municipality and engineer due to the significant variation in these fees across different regions (which can range from $100-$1200).
We take immense pride in being recognized as one of the premier Deck Contractors in the Portland Metro Oregon area for our stellar deck-building services. We achieve this reputation by offering affordable and competitive pricing without compromising on quality. We attentively listen to your needs, craft decks using high-performance, low-maintenance materials that align with your budget, and thus deliver an exceptional final product at an unbeatable price. With Grand Decks, you can trust that we value both your vision and your investment.
A Trustworthy Partner For Your Home Investments
Grand Decks is a fully licensed and insured Deck Builder in Oregon, offering an extensive 25-year warranty on our deck-building services. You can confidently entrust Grand Decks with one of your most significant home investments, knowing that our commitment to quality and excellence ensures your project will be handled with the utmost care and professionalism.
With Grand Decks, you're not just hiring a top deck builder in the Portland metro area; you're partnering with a team dedicated to bringing your vision to life while providing peace of mind.
Setting The Standard In Portland Metro Deck Industry
As innovative pioneers in the deck industry, we at Grand Decks stay ahead of the curve by utilizing the latest technology, designs, and materials for our deck and fence projects. Our innovative approach includes cutting-edge 3D renderings, expertly engineered plans that ensure safety and longevity, and managing all construction permits and inspections on your behalf. 
At Grand Decks, we are committed to delivering the finest experience from concept to completion, solidifying our reputation as one of the BEST Deck Contractors in Oregon.
Let's transform your vision into reality—get started with Grand Decks today!