The Grand Decks 5-Step Deck-Building Process
Grand Decks is Oregon's #1 deck builder and deck-resurfacing expert, creating absolutely stunning outdoor living spaces, one deck at a time.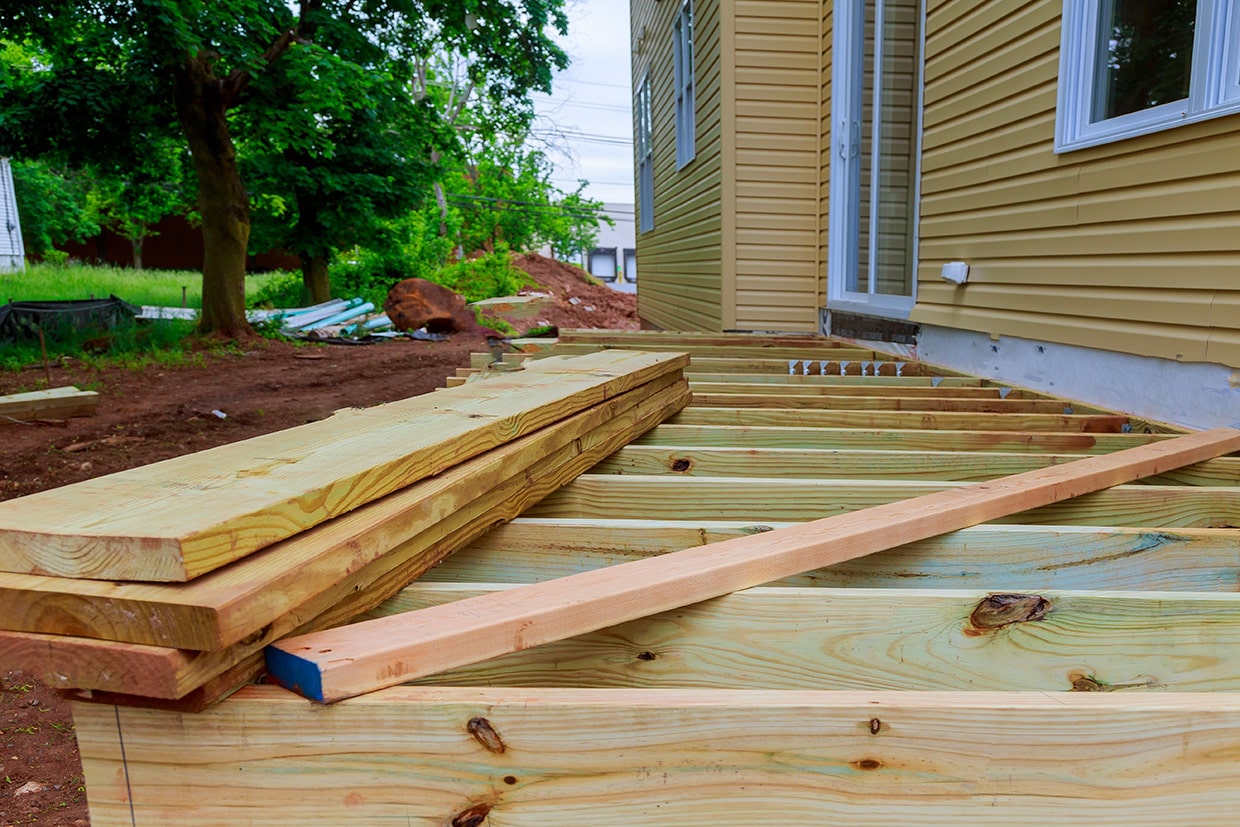 What makes us # 1?
The answer is simple, we have spent years refining our deck-building process and now have it down to a science. Actually, it's a perfect blend of science and art, balancing the two to concoct the perfect recipe for an INCREDIBLE deck. Decks built by Grand Decks are not average decks; they are masterpieces. Not 100% convinced? Just take a look at some of our past projects.
So now you're impressed with our craftsmanship and design, and you want to know more about the process that gets you an enviable deck built by Grand Decks. We have a simple, 5-step process that guarantees any deck project will be completed quickly while allowing us to deliver the highest-quality products and services to our clients. When you partner with Grand Decks, you get our meticulous attention to detail and a stress-free building experience because you know you've partnered with the best in the business. 
Our 5-Step Deck-Building Process involves the following 5 meticulously designed steps. Connect, Consult, Design, Installation, and best of all, Enjoy!
CONNECT
It all starts with you scheduling your FREE consultation with your local Grand Decks office. Scheduling a consultation is simple. Call us or complete a request form on our website, and a representative from your local Grand Decks office will be in touch right away to gather preliminary information on your project, make sure you're comfortable with our process, and schedule a time to meet. It's really that easy!
CONSULT
At Grand Decks, we believe that your project is all about you. That's why we make sure to start the deck-building process off on the right foot with a friendly and informative no-obligation consultation. There are never any pressured sales during our consultations. During our first meeting, your dedicated Grand Decks representative will take the time to walk through your property with you and listen to your ideas, vision, and requirements. Our consultants will then conduct a thorough needs analysis to ensure we identify exactly what you're looking for and share some ideas from our past designs to help spark your imagination. Our goal is to help you visualize the possibilities and achieve the deck of your dreams!
DESIGN
At Grand Decks, we want to make sure you always feel in control of your project every step of the way. After we've had a thorough consultation and established exactly what you're looking for, you have two options to move forward. For those who want a completely customized plan, we can work with you to create a unique design using our visualizer tool. Together, we'll tweak and refine the plan until it's exactly what you want. If you're looking for a simpler project, we offer a range of existing Lifestyle Classics designs to choose from. No matter which route you choose, we'll provide you with an accurate price quote and a detailed contract and specification sheet before construction.
INSTALLATION
At Grand Decks, we take pride in our job management system, which helps ensure your project runs smoothly and stays on schedule (weather and material delays aside). Our construction team is professional, polite, and efficient. Your project will be completed in the least amount of time possible. We will handle everything, from securing the necessary permits to tidying up any construction debris left behind. Once the installation is complete, we will do a final walk-through with you to make sure everything meets your standards as well as ours. If you notice any issues, we'll address them immediately. At the end of the day, our goal is to leave you with a deck that exceeds your expectations and makes you proud to show off to family and friends.
ENJOY
At Grand Decks, we are committed to ensuring that our clients are 100% satisfied with their outdoor projects. We have the highest standards, so you will never be disappointed. Invite your friends and family over to celebrate your new deck. We promise you'll be the envy of your neighborhood with a deck built by Grand Decks. We stand strongly behind our craftsmanship with our warranty, which guarantees that your Grand Decks project will provide years of entertainment and enjoyment. Check out our warranty for more amazing details about what we have to offer. We can't wait to make your project dream a reality! Grand Decks–Creating stunning outdoor spaces, one deck at a time. Contact us today!
Why Hire Our Grand Deck Professionals to Build Your Deck!
Quality Assurance:

Our 5-step process ensures a consistent level of quality in every project we do. By following our expertly predefined set of steps, Grand Decks can avoid mistakes and oversights, resulting in a final product that meets high standards of craftsmanship.

Efficiency and Timeliness:

Our well-defined process allows our deck-building professionals to complete the project in a timely manner. Each stage of the process is mapped out in advance, eliminating guesswork and unnecessary delays. This means you, as a client, can expect your deck to be completed on schedule.

Cost-Effectiveness:

Because of our clear deck-building process, we can provide more accurate quotes and reduce unexpected costs. At Grand Decks, we know what resources are required at each stage and can manage these effectively to avoid waste. This efficiency translates into cost savings for our customers.
Clear Communication:

Our deck-building process provides a clear roadmap for the project, enabling our professionals to keep you informed at every stage. You'll know what to expect and when to reduce uncertainties and ensure your peace of mind throughout the project.

Tailored Solutions:

While our expert building process provides a structure, it's not rigid. Our team can adapt each stage to your unique needs and preferences. This ensures you get a personalized solution, combining the benefits of a tried-and-tested process with the flexibility to create your dream deck.

Commitment to Customer Satisfaction:

Customer satisfaction is at the core of our business philosophy. From the initial consultation to the final walk-through, we prioritize clear communication, professionalism, and transparency in our interactions with clients. We believe in fostering long-lasting relationships built on trust and delivering exceptional service that leaves our clients thrilled with their new deck.
Grand Decks - A Deck Building Process Suited For Your Project
At Grand Decks, we are committed to ensuring that our clients are 100% satisfied with their outdoor deck projects. We stand behind our deck-building process, and our craftsmanship with our excellent warranty, which guarantees that your Grand Decks project will provide years of entertainment and enjoyment. Check out our DECK WARRANTY for more information.
The Grand Decks Warranty
If you reside in the Portland Metro Area and are seeking to elevate your outdoor space with a breathtaking, one-of-a-kind deck, Grand Decks is your premier choice. Our expert team is dedicated to designing and constructing exceptional, high-quality decks that complement your home and lifestyle. 
We thrive on new challenges and take immense satisfaction in collaborating with our clients to make their unique deck dreams a reality. With Grand Decks, you can be confident that your project is in the hands of experienced professionals who really care. Start your deck-building journey with us – Contact Grand Decks today for a FREE, no-obligation consultation, and let us turn your vision into a stunning outdoor retreat.